Wood Burning Stoves or Fireplaces, You Decide
by Guest Post on May 8, 2018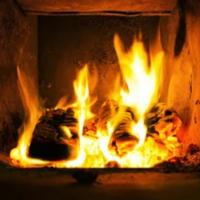 Most people who want to burn wood in their living room to ward off the cold usually face a conundrum, whether to go for a fireplace or to opt for wood-burning stoves. Both have their advantages and disadvantages and we aim to show them both to you so that it helps you in making an informed decision.
A fireplace in a living room is what many people want, they love it. The reason is the aesthetic beauty that it brings to an otherwise drab room. There are many fireplace designs and they come in many styles such as marble, granite, mosaic, bricks, etc. You will find a fireplace for your home because of the many designs on offer but if you look at wood-burning stove designs you will not have that many designs on offer.
When you burn firewood in a fireplace it is an open fire. This means that the fire will heat up a small area but most of the heat will dissipate through the chimney and will not warm your room as required. It also means you need to burn a lot of wood to get the required heat. In fact, it is believed that 80 percent of the heat goes straight through the chimney. Whereas a wood-burning stove keeps 80 percent of the heat inside and the best part is no smoke residue too. The technology is such that the carbon footprint is also low. Hence, the wood-burning stove is a better option as it is fuel-efficient as well as cost-efficient, and the most important of all it is eco-friendly.
Safety wise an open fire is always dangerous. If you have children then you will always have a fire on your mind and you will always hope that something untoward does not happen. Even if you protect the fireplace with shields and guards you always hope that everything stays fine as open fireplaces can always be dangerous. Whereas a modern wood stove is quite safe as the wood stays inside and there is no chance of any residue or burning wood falling out. It is ideal and if you have a fireplace and are often worried about the fire causing harm, it is the right time to switch to wood-burning stoves.
Overall, we can say that if you are more into aesthetics and if you want a fireplace in your room to make it look inviting then you should go for it. But if you are a person who is concerned about safety and not too much into looks then the wood-burning stove is the way to go. If you want a cost-effective solution too then you should go for a wood-burning stove as it burns the wood slowly and retains 80 percent of the heat, thereby making the room warm. Both wood-burning stoves and fireplaces are good, and the decision to buy anyone of it depends on your needs.