Why Does Your Home Need a Dehumidifier?
by Rohit on Apr 24, 2018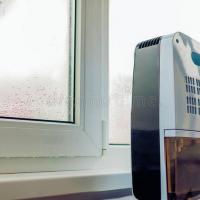 Taking humidity lightly may not be wise.
Dehumidifiers can be essential with regard to the climate in which you reside in or according to seasonal changes in the weather. It is sold as a household appliance used to reduce the level of humidity for health and comfort reasons or to prevent the spread of stale odor and something called "mildew". We're now breaking down some reasons as to why you should have a dehumidifier in your home and the things that its absence can cause in some climate situations.
1. Achoo!
Whether you have allergies or not, the musty odor and mold growing in your home could cause excessive coughs and sneezing, pertaining to allergies. The mold can be due to the bacteria growing in your home over time that has not been diminished due to the high levels of humidity where you live. By purchasing and using a dehumidifier of the concerned type, you are automatically lowering the levels of humidity, thus also causing less air pollution as a bonus!
2. Improving Air Quality.
Like we've said before, dehumidifiers not only prevent molds but are also responsible for improving air quality. For this, keeping the home dry is absolutely crucial. Keeping relative humidity levels to less than 60% using a dehumidifier can go a long way in ensuring air quality in your home. The reason this is so important is that things that promote humidity, dust mites, and molds, love moisture.
3. Dust Mites Away!
So many people complain about allergies caused by dust mites. But what many people don't know is that dust mites can be spread due to the obscure levels of humidity. Apart from using allergen-proof bed covers and other protective items available in the market, you can improve the process by investing in a dehumidifier. This appliance can ensure low levels of humidity so as to prevent nasty things such as dust mites and keep your allergies, if any, away.
4. No More Stuffiness.
The first thing we look forward to when owning a home is being comfortable. A home is the one place where we can be ourselves and thus comfort is necessary for this. However, when the extreme levels of humidity cause a moldy and stuffy surrounding, comfort seems like a fantasy. Therefore, dehumidifiers are crucial to ensure a non-stuffy environment at home as it reduces moisture thus giving you a cool and relaxing surrounding at home.
5. You Don't Need To Have A Richie-Rich Budget.
Many people have the notion that all dehumidifiers are expensive which is not really the case. In fact, they can be available in budget-friendly options so that you can purchase one without having to burn a hole in your pocket. Each dehumidifier differs according to its brand and the capacity to dehumidify (according to the area of the place) which is why research is very important when purchasing this appliance. Analyze your options pertaining to your budget and the type of dehumidifier you require for your home. Head on to dehumidifierweb.com to make the perfect purchase.
6. Save Your Furniture.
We've learned how moisture can cause harm to our health but it can also cause harm to our belongings. Material made of wood can be ruined due to high levels of humidity. Thus, having a dehumidifier around can be handy to prevent your expensive furniture from being ruined.
There you have it, six solid enough reasons as to why you need a dehumidifier standing in your home. Protect and inspect with dehumidifiers today and ensure a healthy, pure, and bug-free lifestyle. Dehumidifiers are slowly becoming a necessity in today's pollution-controlled world and therefore, one must be particular in choosing the right one.