4 Benefits of a DIY Heat Recovery System Installation
by Boris Dzhingarov on May 23, 2018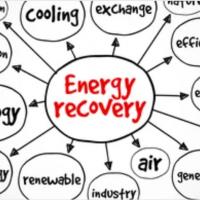 Lately, you may have been hearing a lot about HRV (Heat Recovery and Ventilation) systems and now you probably want to know what they do and how they can benefit you. Since you have a newer model home, isn't this already built into your furnace? The short answer is, probably not. Most home builders don't go that extra mile as their profitability is based on keeping construction costs low. It's understandable since those extra features would necessitate a rise in the sale price and so, this is one 'corner' they can legally and ethically cut.
There is no law on the books that requires builders to provide heat recovery features to your HVAC system. Now it's up to you to determine whether or not you need one. Your home is new, after all. These are the homes that have greater reasons to have a heat recovery system installed because they are built to be air tight and don't have the ventilation older homes have. Now then, for those benefits, here are the leading 4 to consider.
1. Reduction in Heating Costs
If you know how an HRV system works, you'll quickly understand how these units can reduce the amount of money you will spend on heating costs. In effect, the HRV unit recycles warm air to be ventilated outside while bringing in the clean, fresh air that is of better breathing quality. However, the energy-saving is from the fact that warm, clean air is recycled into the home, thereby cutting the cost of keeping your home warm in the winter. What a nice perk clean air will be!
2. Fewer Respiratory Complaints
Speaking of fresh, clean air, one of the problems with those relatively air-tight new homes is the fact that they don't allow the intake of clean air into the home as well unlike older draughty homes. It is a well-known health hazard to breathe dusty, stale, and moldy air and so that DIY installation of a heat recovery system should help your family stay healthier this winter.
3. Prevention of Mould and Mildew
Alongside pollutants, chemicals, and dust, HRV systems also remove dampness from the home as well. That circulating air keeps moisture to a minimum and so you should experience fewer problems from black mold and mildew. After all, both mold and mildew require moisture to grow and by removing the moisture, you are removing the catalyst for growth.
4. DIY Installation Is Less Expensive
Then there is the cost of installation to consider. With the right unit and a good supplier, you will get all the guidance you need when undergoing an installation like this. Just beware of the company you choose to deal with. If they don't have well-written instructions and the availability of service reps to talk you through a process, look elsewhere for your HRV system. The savings you'll realize on labor alone are significant, and one of the main reasons you decided to undertake a DIY installation in the first place.
Both your house and family will thank you for all that clean, warm air next winter, so be proud of your DIY efforts. Once you see the cost of heating your home go down and the health of your family improve, you'll have plenty of reasons to give yourself a pat on the back.