HVAC Tips: How Often Should I Replace My HVAC System?
by Furnace USA on Nov 8, 2019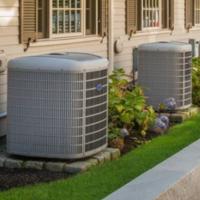 When it comes to your home, one of the most important components that you probably don't think about often is your HVAC system. It keeps you cool in the summer and warm in the winter. It works hard behind the scenes to ensure you and your family's comfort. Life would be miserable without it.
The great thing about your HVAC system is the fact that you don't have to think about it. This means that it's doing its job. However, nothing was meant to last forever, so at some point, you will need to replace this component.
How Often Do HVAC Systems Need To Be Replaced?
On average, an HVAC system can last for 10 to 15 years. This depends on the type you have and how well it has been maintained. There are some signs that it may be time for you to get your system replaced. 
Signs It's Time for a New HVAC System
If you are wondering if it's time for your HVAC system to be replaced, there are some signs you can look for. These are listed below.
1. It's 10 Years Old or Older
Even though your HVAC system can last for up to 15 years, if it is more than ten years old and it needs expensive repairs, it is worth investing in a new one. Trying to keep the old one running will wind up costing you more in the long run.
In addition, if you have an AC unit that is more than ten years old, it may still use a refrigerant known as R-22. This is a type of freon, and if you have an older air conditioner that needs this element, you will want to get it replaced. Not only is this freon outdated, but it's also harmful to the environment. Thus, getting a new air conditioner will make you more eco-friendly and cut down on your cooling bills.
2. You Can't Maintain a Comfortable Temperature
As your HVAC system gets older, it will struggle to maintain a consistent temperature in your home. This could be caused by a variety of problems, including issues with the thermostat, clogged filters, cracked or clogged ducts, or issues with the motors.
If your system is struggling to keep you and your family comfortable, then it may be time to get a new one. Calling in a professional and having them inspect your system is the best way to know for sure if this is the step you should take.
3. Repairs Cost More Than Half of a New Unit
If you call in an HVAC repair professional and they tell you that your system can be repaired, but it's going to be more than half of what it would take to buy a new unit, you might want to invest in the new unit. Spending a lot of money to keep your older unit running will become expensive, so buying a new, more efficient system will save you money in the long run.
4. Your Energy Bills Continue to Rise
If you have noticed that your energy bills continue to rise steadily each month, this could be another sign that you need to get the unit replaced. The older it gets, the less efficient it becomes. This means that it may have to run longer to keep your house comfortable, and this will have an impact on how much you pay each month. Save yourself over the long run and get a unit that will lower your monthly payments.
5. Your Home Is Dustier than Normal
Not only is your HVAC system responsible for keeping your home at a comfortable temperature, but it also removes dirt, debris, dander, and allergens from the air. If you notice that your house seems dustier than normal or you are having more issues with your allergies, this could be a sign that your system isn't working effectively.
Calling a professional to check your system is beneficial. If you don't change your filter as often as you should, this could be a reason why you have more dust and debris in your home. However, if you experience the same issues even after changing your filter regularly, this could mean you need a new unit.
6. Air Quality Has Changed
In addition to your system removing dirt and debris from the air, it is also an important part of your indoor air quality. Thus, if you notice that your house feels more humid than usual, especially during the summer, this could be a sign that your system isn't running properly. Letting this go could lead to the growth of mold or mildew, which can cause a lot of problems in your home. Don't let it progress to this point. Get your system replaced by an HVAC expert to improve your indoor air quality.
7. It Smells Funny or Makes Weird Sounds
If you notice that your HVAC system has a funny smell or is making weird sounds, these could be indicators or larger problems. Turning off your system and having it inspected as soon as possible is in your best interest. 
Funny smells could be caused by dust burning off in your unit, or it could be melted wiring, burned-out engines, or even mold growth in the ducts. Weird sounds could be caused by moving parts that are worn out and rubbing against one another. 
Any of these could lead to a major issue, including a potential fire hazard. It's better to be safe than sorry and have your unit inspected. These could all be signs that your system is on its last legs and needs to be replaced.
HVAC systems can last between 10 and 15 years if they are well maintained. However, no matter how well you keep them serviced, at some point, they will need to be replaced. There are some signs that it's time, and calling in a professional to help with this process will ensure that you get the system that will work for you and your family. Investing in a new HVAC system is ensuring that your home and family are comfortable, and it may even save you money in the long run.