Which is Right for Me? Wood or uPVC skirting?
by Guest Post on Aug 21, 2019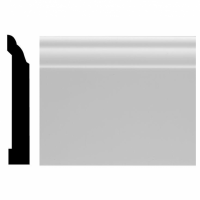 There is always a shroud of uncertainty when having to purchase something you've never bought before. The choice is not made any easier when there is such a tremendous wealth of styles, colors, and materials that make for the same product. This is just as true for choosing between wood and UPVC skirting (baseboards) as anything, but this guide will give you some insights that can make the choice a bit easier.
So which is better for you? Like you probably figured, it does depend!
You are going to have to consider your priorities in a skirting board or reboard when choosing the best option for you. Here are some things to consider:
Practicalities,
Your own personal choice/taste,
Style and Architecture
Keep these points in mind as you look over the options available to you.
Advantages of wood skirting boards (baseboards)
You can expect wood skirting boards to exude that traditional charm and if this is something you want to express, accept no substitutes.
Do you need very specific colors? Wood materials mean your skirting can be primed and painted to almost any color you want. This makes it perfectly suited to a larger variety of situations.
Wood skirting tends to hide imperfections well and has a finer finish.
Because wood skirting is the most popular option, you will find that it is also available anywhere. On the other hand, some people have found that UPVC is not as readily available.
Advantages of using UPVC skirting boards.
UPVC skirting board and PVC coving tend to be easier materials to work with and fit properly. Those novice or intermediate DIY enthusiasts who are looking for an easier option might choose UPVC.
UPVC is not as refined and polished as wood and because of this, the cost for UPVC skirting may be considerably smaller than wood – a good thing for those on a budget.
UPVC skirting is the best choice for certain areas of the home. Because it looks plastic and modern, uPVC in the bathroom is a good idea as it will hold up to moisture well. On the other hand, the refined look of wooden skirting is a better choice for the bedroom, for example. Then again, this is all about taste.
These are just some of the basic pointers and considerations and as you plan the skirting in your home you will surely think of others. Be sure to keep your values in a list organized by priorities, this will make it easier to select the perfect option for you.