Why an Outdoor Shower Should Be your Next Home Improvement Project
by Alan Smith on Aug 1, 2019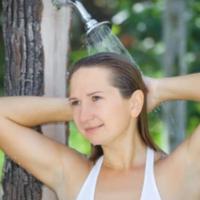 When most people stop to think about their next home improvement project, an outdoor shower probably doesn't make the shortlist. That's a shame because an outdoor shower is a reasonably affordable upgrade that can add luxury, comfort, and convenience to your home.
Here's why it's time to consider an outdoor shower:
1. Outdoor Showers Make Pool Time Better
If you have a swimming pool, an outdoor shower is a perfect thing to complement it.
Swimming in a chlorinated pool can leave your skin feeling irritated and uncomfortable. But it's not just the chlorine you have to worry about. No matter how much of it you put in your pool, bacteria and viruses will be in there too, and many of the chlorine-resistant strains have some particularly unpleasant side effects. For those reasons and others, it's always a good idea to shower after getting out of the pool.
With an outdoor shower, you don't have to worry about dripping water all over your floors on the way to the bathroom, or drying off before heading inside just to shower again. An outdoor shower lets you clean off in record time, so you can go back to enjoying your day faster.
2. Outdoor Showers are Great for Gardeners
Like working in the garden? Gardening can be a satisfying and meditative hobby, but it's not a clean one.
Instead of heading inside to clean off after a gardening session, using an outdoor shower means you won't have to worry about tracking mud in the house. With a proper drain, it's also an extremely convenient way to clean off your gardening tools.
3. Outdoor Showers are Perfect for Dog Owners
If you own a dog that loves bath time, you're lucky. But for the rest of us, it can be challenging to get a stinky dog to cooperate.
With an outdoor shower, it's easy to give your dog short, frequent showers instead of one long bath. You'll enjoy a cleaner, healthier dog more often, and even bath-adverse dogs don't seem to mind as much.
4. Outdoor Showers are Great for Entertaining
If you frequently have guests stay at your home, especially in larger groups, it can put a strain on your bathrooms. An outdoor shower is the easiest and least expensive way to accommodate more of your guest's slower bathroom needs.
5. Outdoor Showers are Awesome after a Workout
Like jogging? If you're like millions of Americans, you might take a jog around your neighborhood instead of paying for an overpriced gym. When you get back to the house, showering outside is a great way to clean off, and the open air can help you dry off faster afterward.
6. Outdoor Showers Give Your Home a Spa Experience
Perhaps the best part about owning an outdoor shower is that you can set it up any way you want. Add a bench for slower, more comfortable showers. Build a stylish bamboo privacy wall to add character to your landscaping. Or even install a living plant wall to make your shower feel like a spa. It's your choice, and with so much more flexibility than an interior shower, you'll be able to make a bold design statement or transform your outdoor shower into a spa-like experience with ease.
Tips for Owning an Outdoor Shower
Consider your shower's placement carefully. Placing a shower near a hot water heater is a good idea because the alternatives are to take cold showers, have a plumber run a long hot water line, or install a secondary or point-of-use heater.
Use biodegradable soaps. Water from your outdoor shower can sometimes run off into your landscaping, and the last thing you want it to do is poison your plants. It's also important for protecting our clean water supply.
Get a good shower drain cover. It's easy for natural debris to fall into your outdoor shower drain without a good drain cover, but it's not always as easy to get it out again.
Learn how to keep your drain line clear. Too many homeowners reach for chemical drain cleaners at the first sign of trouble, but liquid drain cleaners aren't good for your plumbing or the environment. The good news is that it's entirely possible to keep your shower drain clear without liquid drain cleaner.