Could Self Storage be a Viable Alternative to Extending Your Home?
by Anna Preston on Aug 23, 2019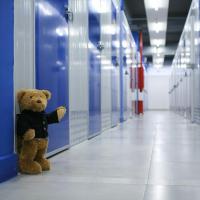 Read about the benefits of self-storage as a possible alternative to extending your home in the future.
Many people these days are choosing to extend or renovate their homes instead of moving to a different property. Extensions can be a great solution to issues with space, and help your family enjoy a home that is much more practical for your needs. Common reasons people choose an extension are:
To add an extra room to the house
To increase the space of the kitchen or living room
To add space for a relative to live on the property, such as an elderly parent
To accommodate a change in the physical needs of the people living on the property
To accommodate off-road parking
There are many benefits to having an extension to your home
It isn't all positive though, as of course, extensions come with a hefty price tag and months and months of upheaval. A building can often drag on, and costs can continue to escalate. With so many potential downsides to extending, could there be a better alternative?
Consider Cheap Self Storage
There are scenarios where paying for an extension makes sense. However, it is important to know your options so that you can make an informed decision. Cheap self-storage could well be a viable alternative for you to consider, and it is likely to be a lot less expensive and time-consuming too. 
Cheap self-storage works by providing the consumer with a dry, clean, secure space to store their belongings in. This space could be the size of a gym locker or the size of a football field. The costs vary but are always competitive, and usually, you can easily switch to a different size of a container if needed, and enjoy a flexible contract too.
Self-storage could be a viable alternative to having an extension if:
You're still not sure if moving house is what you ultimately want
You only need extra space temporarily
You would rather save for a property that is already perfect
Your only issue is storage and not the practicality of the space
A room you already have could be converted to suit your needs if it was empty of items you could place elsewhere
These are just some of the reasons cheap self-storage could be an alternative to having an extension. There are many more reasons that an extra room could be the answer to your problems. Think about your reasons for having an extension, and then think about the home you already have. Could you possibly make your homework as it is now if you had more space for belongings that could be held offsite?
Consider a Trial Period
As you are unlikely to rush into planning an extension on the home anyway, perhaps it is a good idea to try a period utilizing cheap self-storage instead. Having that bit of extra space for your stuff may be exactly what you need to make your living situation more practical, without having to move a single brick.
Using self-storage might not be the answer to your problems, but for a much cheaper price tag, and the ability to benefit from it as soon as you sign a contract, it is certainly worth serious consideration.