Tips for Successfully Building a New Home
by Guest Post on May 15, 2012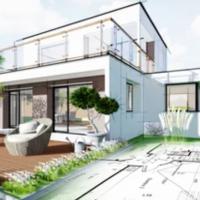 As you get started with your contract, always carefully examine any proposal given to you by a general contractor to ensure that EVERYTHING is spelled out in detail in writing. The contract should include time estimates, all costs, and specifics of the materials being used as well as warranty information, typically 1 year.
Talk to anyone who has built a new home and they will tell you that they ran over budget. I recommend getting as much included in your initial contract as possible. A builder is more likely to give you better pricing upfront when he is trying to close the deal. If possible have your builder completely include the cost of your septic system and well if applicable, these are two areas that often seem to run over the allowances given.
Typically a builder's contract will include an allowance for septic fill (materials to build a town approved septic system such as special sand) and a specified number of feet drilled for the well with the cost for each additional foot. Have him take the risk of estimating these items, you could easily run over budget by thousands of dollars, an experienced builder should be able to estimate both septic and well costs based on other houses in the area.
Construction Financing
I recommend having your builder handle all the construction financing and working it into the total cost of your home. If he has given you a fixed price he will be more likely to stay on schedule. You should not have to pay additional interest if he is a month or two late with completing the project.
Hire an Attorney before Signing Anything
Have an attorney examine your contract before signing of giving the builder any money. You want to ensure that you minimize your risks and that you are giving the builder only the appropriate deposits. Check with your attorney, if you are required to give the builder a large deposit to close your deal the attorney may be able to record an interest in the builder's land on your town records. This will provide you with some recourse if the builder goes bankrupt before finishing the project.
Don't do anything without first calling the Better Business Bureau and checking the builder's references. Don't just call people from homes he has built in the last year or two, ask him for names of homeowners from 5 and 10 year homes to see how their homes have stood up over time. You may want to use contractor referral services such as the one located on this site to perform a background check for you.
Builder Allowances - Watch Out
As mentioned earlier allowances can easily be used up. Try to get as much included in the initial contract. Builder typically has allowances for cabinets & counters, flooring, and lighting. I've seen builders have a cabinet & counter allowance from 4,000 to 9,000. A good builder will have several places to choose from for your cabinets so you can negotiate the best deal. Most of these allowances are not enough to get good quality materials.
If you want quality constructed cabinets for your kitchen and bath that will last, plan on a budget closer to 10,000 (for a 2500-3000 Sq. ft house) plus the cost of countertops which could range from 1000 for Formica to 5 or 6000 for Corian or Granite. Lighting is another area that can easily add up. The cost of the actual fixtures is not too bad and you can do your own estimate by going to 411homerepair section of garbage trash repair it is the labor that may surprise you. Electricians get paid good money so you will be charged for every little extra. See if your builder has a price list of what the electrician charges for things like recessed lighting, extra outlets, overhead lights, lamp post wiring, and generator set up.
Construction Materials - Take Note
Here are some of the materials/items I strongly recommend for your project :
2 x 6 Douglas Fir Framing Lumber
Plywood Sheathing (No OSB - Chipboard)
Tongue & Groove Flooring Plywood (Glued & Nailed)
Rough-in of ductwork for future Central Air conditioning
Rough-in of pipes for a future central vacuum system
Install extra cable and phone jacks on each side of large rooms such as a family room so furniture can easily be arranged.
Install bath exhaust fans in every bathroom to avoid moisture/mildew problems consider a generator transfer switch if you live in a rural area, you may only need it once or twice a year but most rural locations can't even get water when there is a power outage since your good pump requires power. Have the electrician connect the essentials such as a furnace, well pump, a couple of downstairs lights and a couple upstairs lights, refrigerator, kitchen outlets, and microwave.
Curtain drains around the outside of your foundation, have your builder guarantee a dry basement.
Does the proposal include clean-up and material debris removal?
Managing your project
First, get a complete copy of your blueprints from your builder, you will need them to do your part in checking the progress of your project. With all the details which go into building a new home, it is no wonder that misunderstandings occur. Once you obtain a copy of your blueprints, study them carefully. If you are unfamiliar with how to read blueprints you may want to get a copy of Tim Carter's blueprint tutorial from the online store at his "Ask the Builder" site www.askbuild.com. Study the prints to ensure that all the dimensions of the rooms are correct, you must also review the cross-section prints which show the ceiling heights and framing construction of the walls. If you are going with 2 x 6 construction make sure it is noted here. Also, check your ceiling heights, the standard is 8 feet but it is becoming increasingly popular to have 9-foot ceilings on the first floor for a more open look and feel. Make sure any special notes are on the blueprints, for example, if you have any tray (recessed) ceilings make sure there is a notation, and if you have any pocket doors, make sure they are noted.
Here are some key things to do along the way :
Check dimensions! Before, during, and after construction.
Mark location of kitchen cabinets, bathroom cabinets, and appliances on the floor with a permanent marker (this will indicate to the plumber & electrician where to locate pipes & wires)
Tack up a kitchen floor plan in ht kitchen as soon as you have one
Mark the location of all outlets, switches, cable & phone outlets with the marker (talk with your electrician first, he/she may want to do this with you)
Mark an X on the floor in front of each of the outlets, this will allow you to check that the sheet rockers did not bury one of your outlets.
Bring the kids !! The kids can help too, get as many people as you can to walk around all the floors to check for squeaks as soon as the plywood is down. There is nothing more annoying than to have a squeak under your carpet in a new house. Mark the floor with a marker if you find any and let your builder know.
Before the painters begin... buy some small cans of the colors you are leaning towards and paint some small areas on the walls approximately 2 feet by 2 feet. Take a look and see if you still like them, paint samples on paper you get from the paint store are often not accurate and look much different in a large area. Neutral off-white or cream colors are not a bad idea since they will easily go with your furniture, floors, and accessories.
Take pictures and/or video along the way, not only will you find it interesting to watch later but if you ever need a future repair you will know exactly where your pipes wire and ductwork are located.
Have patience! It is a lot of work to make all the decisions you must make and ensure that your builder does what you want. This is a true test of any marriage.
Call your builder often. Don't feel bad calling your builder, after all, he is essentially working for you. Get a status often and ask him what the next decision is which he needs from you to give you plenty of time to think about your choices.
If your builder wants to close on the house before completing a few items such as the driveway, lawn, or other small items. Make sure these are documented on a list that you have the builder sign and have your attorney hold some $ aside at the closing until these items are completed.
Good Luck! It is a lot of work but also a rewarding experience having contributed to the design of your own home.
Check out this home improvement software to help organize the details of your project: The Complete Home Journal