5 Ways to Design Your Home on a Budget
by Guest Post on Mar 15, 2018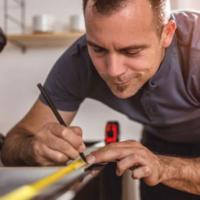 Do you want your house to look no less than a million dollars but don't want to spend more than the bare minimum? If the answer is yes then we can help you out more than you think. Converting your house into your dream sanctuary is an easy task if you have the right vision and this does not mean that you will have to spend in an extravagant way. A fabulous home is not that difficult to get and we are going to show you how! The tips below are going to help you create amazing interiors without maxing out your credit card.
1. Minimization Is The Key!
A minimal look is important to draw attention to the minute details. Rather than jamming everything together, try to go with the "less is more" option. This is actually very simple to apply—you just want to reign in your desire to overfill the room with different decorations. One simple example is your bookcase where many people go overboard when they surround the nearby spaces with additional trinkets and showpieces. Instead of this, keep the area clean and let the focus be only on the books that you have displayed.
2. Consistency Is Important
When you are styling your whole house, try to think of a pattern and apply a singular style in all the rooms. This does not mean that you decorate every room the same. Variations can be done in different rooms but try to follow a pattern. This is similar to when designers showcase their designs on the ramp. Every dress is different but they all are based on a single theme. Similarly, all the rooms of your house should follow a similar theme.
3. De-clutter
A cluttered look is difficult to pull off and all those images on Pinterest are not that easy to replicate. Go for a clean, organized look and get rid of anything that you do not use anymore. Hoarding additional stuff will just make your house look messy and this does not look good if you have guests visiting. Also, be careful that your plumbing is hidden and there are no water heating pipes poking out. A cozy look can be maintained with decluttering your house and therefore get organized to make your house look pretty.
4. Lightning Is Important Too!
A well-lighted room makes all the difference sometimes. Low lights work too but not for all kinds of spaces. The important thing that you need to remember is that a well-lighted room is important to showcase all the decorations. Keep the usage of the room in mind while choosing lights—for example, your kitchen, dining space, and study room need to be properly lighted and you should avoid single lightning in such rooms. See all the lighting options and try to visualize them in different spaces around your house because this way you can choose the right kind of lighting for your needs.
5. Experiment
 When in doubt, try variations of the same design till you get it right! It will take some time and therefore patience is important while trying out the different ideas that you might have. You can experiment with different decorations, wall colors, themes, etc. You can follow different interior designing focused blogs to get some ideas before you start experimenting or playing out with different ideas.
The above were some ways in which you can design your house the way you want without spending the bare minimum. We hope the ideas above will help you recreate and re-design your house. The one thing that you need to remember is that patience is important because you won't get the exact look that you want in only a single try. Sometimes you might have to spend a little more time than what you originally planned and therefore be patient.