10 Splendid Ways to Make Your Home Look Irresistibly Inviting
by Guest Post on May 22, 2018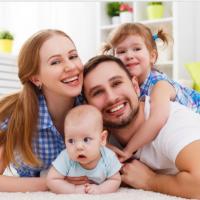 Nothing is more pleasing than having your home looking luxuriously dapper and cosy. However, you do not need a large budget to get your home pleasantly furnished and nicely decorated.
Imagine your friends coming over to your home, only for them to suddenly feel like sleeping over because of how inviting and relaxing your living space is. The secret to an amazing look and feel is one that I will now share with you. So, get your writing pads ready, and pull up a chair as I share with you some of these secrets.
Let's go!
1. Incorporate natural elements into your house.
According to interior designer, Tamara Magel, incorporating natural elements into your house is a good place to start in your quest to beautify your home. You could have some flowers in a vase, grow some indoor plants in a nice looking pot, etc. Fresh fruit will look particularly nice when placed in a bowl and set on a table. The contrasting colors of the different fruits will lend a hand in making your living area more colorful. 
2. It is always a good idea to work towards color harmony.
Set up sofas, and other types of furniture, that will harmonize to give a consistent color theme. However, if your furniture has a variety of colors, you can still achieve color harmony by ensuring that the colors of your furniture can also be seen in other parts of the room.
3. You can pile a few cozy pillows on your sofas.
A cuddly stuffed bear often gives some comfort when a person is feeling blue. The same idea applies here. It's always relaxing to have something to hug when you take a seat on a soft and relaxing sofa, especially after a hard day's work.
4. Consider setting up your sofas in a rather centric pattern.
Instead of placing the sofas near the wall, it is often best to set them up around the center of the room. This will make your sitting room look more spacious. The centric pattern of arrangement will also help to encourage conversation among people sitting on the sofas. 
5. A nice work of art will serve well in pulling your room together and give the eyes something pleasant to rest on.
As it is commonly known that art speaks to the soul, the type of art or painting you choose to display in the room will play a part in determining the type of mood that will be stirred in the people who enter. Therefore, you can harness this to give your home a specific feel.
6. The key to beauty lies in perfect simplicity.
The rooms in a lot of homes may not look inviting because of the presence of clutter. It's advisable, especially when you are on a budget, to purchase only the items that are essential for you, and then arrange and decorate accordingly. 
For instance, a bedroom requires items like a bed, a chair, a bedside cabinet, and maybe a reading table. The fewer the items in a room, the better it looks. Considering this idea will also make cleaning easier, as there will be just a few surfaces to keep clean. Frequent spring cleaning will also do a lot of good for your home. 
7. Size always matters.
To give your rooms a sense of geometric harmony, it is necessary to scale up your furniture to fit the size of your room. A large space will require bigger furniture, a medium sized room will require medium-sized furniture, and a small room will require smaller furniture. 
Imagine having a large space furnished with small furniture, it would create a contradictory look, and make the room feel empty and hollow. It is often easier to start off with basic furniture like the sofas (for the sitting room), and the bed (for the bedroom), and then scale up the rest of the furniture to match their size.
8. Incorporate fabrics with furniture.
Using fabrics that are made to withstand the outdoors, to make your indoor furniture may be a good idea as they are more durable, and can help in controlling stains, especially with the kids around or when you have pets.
9. A splash of paint.
The idea to bear in mind while painting your rooms is to paint dim areas of your rooms with dark shades, if you prefer using more than one color to paint the walls. It will help to balance out the space.
10.Be creative!
Give your sitting room and dining space a feel of your personal taste. Make your designs reflect your personality. This could incorporate cultural items that reflect your ancestral roots in your living room or infusing style and security with exquisite dining room table pads. Everybody enjoys a little bit of out of the box thinking. So don't be afraid to try out a few crazy ideas.
I hope you have a lot of fun as you set out to create that style and comfort you've always wanted.