Grading Landscapes - Part 1 (equipment)
by Dan Eskelson on Apr 30, 2012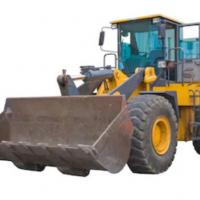 Please also visit Part 1, Part 2 and Part 3 of this article.
In recent issues, we discussed general ideas and techniques for moving soil and grading your planting areas. Unless your area is quite small, it will probably be desirable to use motorized equipment to aid this process. Though if you have *lots* of time and/or a very limited budget, the physical work of doing it all by hand will add some muscle, endurance, and callouses to your body.
Many recent design clients have decided to remove at least part of their lawns in favor of lower maintenance areas. For this task, a sod cutter should be rented. This is a very heavy tool that will require help loading and unloading. It's also somewhat difficult to use until you get the hang of it.
Most machines can be adjusted for depth of cut...experiment with your first cuts to gauge the correct depth - remove all of the sod, but little soil. Make the first two or three passes around the perimeter of the area... This will allow you to make turns easily for the remaining work. After cutting with the machine, cut with a shovel into manageable lengths which can be lifted or rolled for removal.
If you make arrangements beforehand with a neighbor or friend who would like to add sod to his yard, you'll have the much needed help you need for this project - a good trade that both parties should be happy with.
Another tool that is useful in almost all landscaping is the rototiller. This tool is used for cultivating planting areas and mixing soil amendments with the native soil. If at all possible, rent or borrow a tiller with the tines (rotating "teeth") in the rear of the machine. The cheaper models, with tines directly below the motor, are extremely difficult and dangerous to use - useless in fact on very hard soils. Even the higher quality, rear-tine machines can bounce out of control, so take care.
You may need to perform several separate tilling tasks for your soil work. The first is to loosen the soil to establish the desired rough grade, and several additional passes to thoroughly mix the amendments with the soil. Don't hurry through soil preparation - it's the most important key to healthy plant growth.
Large areas may warrant the use of a tractor for both cultivation and initial grading. Those with a rear PTO - power take-off - can be fitted with a tilling attachment, and can work up a fairly large area quickly. If you plan the sequence of tilling passes correctly, you can finish the work with very little compaction from the tractor tires.
Another very useful tractor implement is the box scraper, which can grade in both forward and rear directions. It also has ripping teeth which can be set at several depths, or not used at all - these work well to break up hard soil and even mix amendments if the number of passes is sufficient. With a bit of practice, the operator can lower and raise the scraper to move soil as needed.
Other common motorized types of equipment include the trencher for preparing irrigation and drainage ditches, the power auger for digging planting holes, the gas-powered drill for working with landscape timbers, and numerous other small and large pieces of machinery.
With all machines, take the time to understand operation and safety...these tools can accomplish a lot of work in a relatively short time, but also can do a lot of damage in a hurry. Never operate machinery when you're tired or not in complete control of your thinking. If you're not comfortable with the power, noise, or any other qualities of machinery, it is probably best to hire this work out to a local professional. If you do, check references and insurance.