Why Everyone Should Have Live Edge Wood Furniture
by Adrian Hood on Jul 17, 2018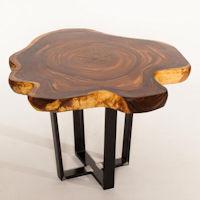 In recent years, live edge wood furniture has become increasingly popular. Aside from being the perfect kind of wood to achieve the perfect rustic aesthetic, live edge wood furniture has a ton of benefits. So, continue reading to find out why everyone should have at least one piece of live edge wood furniture!
1. Eco-Friendly
One of the best aspects of live edge wood slabs is the fact they are eco-friendly. Contrary to other kinds of wood planks, live edge wood maintains the natural organic essence of wood. This is because, to get a live edge plank, specialists cut as much wood as possible. Once the wood is back at a sawmill, professionals limit the amount of wood they cut. Essentially, this means that live edge wood planks retain as much wood as possible. So, specialists aren't cutting corners and knocking down more trees to achieve large wood slabs.
2. Every Slab is Unique
Since live edge wood keeps the natural appearance of the tree it came from, every slab has different streaks and edges that make it unique. Even slabs that come from the same tree appear different. This means that your live edge wood furniture will be truly unique and look different than everyone else's live edge wood furniture. This creates an aspect of specialty and personalization that is nice for statement pieces, such as live edge tabletops.
3. Budget Friendly 
Since natural edge wood slabs sometimes come from salvaged trees, they are usually budget-friendly. This means that you can achieve a unique statement piece of furniture from a live edge wood slab at a lower price than what you would pay for a traditional wooden piece of furniture. 
4. Durability
Lastly, live edge furniture is extremely durable. This is because of the high-quality nature of live edge wood. Since live edge wood is usually kiln-dried, you don't have to worry about your furniture having any lingering bugs or other issues because the drying process ensures the wood is refined and has premium quality.
It's also interesting to note that live edge wood is usually thicker than other kinds of wood because it isn't sanded down or cut as much. This means that live edge furniture has more functionality and can sustain more weight than other kinds of wooden furniture. This is why live edge wood is often used for larger pieces of furniture, such as tables.