Ideas for Updating Your Bathroom on a Budget
by 411 on May 12, 2012

Bathroom Budget Updating Ideas
You do not need to updated plumbing and rip out walls to give your bathroom a fresh new updated look. Here are example budget ideas.
Before Remodel Picture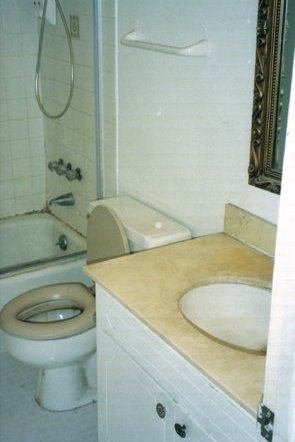 After Bath Update Picture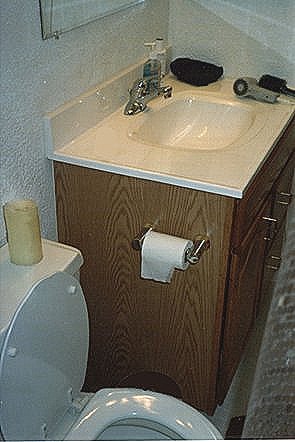 Total cost of material is roughly $700.00
These price does not include labor or any other potential fees. Labor prices do vary from region to region, quality of the job, and other important factors, so it is difficult to post the total cost for this project.
Removed Shower Door and Replaced with Curtain. To remove the shower door use a caulk remover or Goof Off brand remover.

$20.00

New Toilet Seat

$20.00

New Sink Top - Remove old sink by FIRST by disconnecting the plumbing. After the plumbing is disconnected try prying carefully the back of the sink from the wall. This is usually attached by a blob of caulk. If you have a inlay sink, you will need to remove the 4 to 6 screws underneath the sink first. After the sink is loosen the sink should be attached with plumbers putty between the sink and the vanity, or sometimes caulk. Remove the old caulk and putty and replace with new materials. I recommend using new plumbing parts if the plumbing is over 10 years old. It's easier to replace when the sink is replace, and it helps avoid future plumbing work.

$100.00

New Vanity (Base for Sink / Ranges from $100 to $500+) -- Another option is to refinish your existing vanity. In this example, the old vanity was cheap and cracked, so the vanity was replaced with a higher quality material. The old vanity was attached to the wall with only 2 large nails on a small thin wood strip on the top third of the vanity. When removed, check for wood rot. If you have dry rot, this is a good time to replace subfloor where needed.
Notes: Verify closely the width and length of the BOTTOM of the vanity to see if you might need to replace your flooring if the new vanity exposes old flooring.

$300.00

New Faucet (Ranges from $20 to $200+)

$60.00

New Towel Racks (Ranges from $20 to $200+)

$60.00

New Mirror

$25.00

New Medicine Cabinet

$45.00

New Light Strip w/Bulbs

$40.00

Paint and Patch

$30.00