Do-It-Yourself Helpful Hints for Painting
by Guest Post on Mar 22, 2020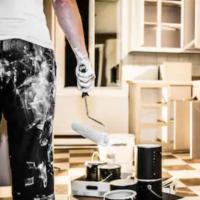 DIY painting can be an enjoyable low-cost way of improving your home interior. It is one of the easiest home improvements that most people can do themselves. The following painting steps will walk you through the various steps to create a refined result.
Never try to save money by purchasing cheap paintbrushes. Your work will look better and be more pleasurable during application using quality brushes and, with the right care, will last for a long time.
After cleaning paint out of your pure bristle brush, spray the bristles with "WD 40"; this promotes a healthier bristle and maintains spring and softness, and prevents the hardening of paint residue.
Use nylon brushes for water-based latex paints and pure bristle brushes for oil-based paints.
Use water-based urethane sealers and varnishes and tint for multicolor textured effects; they are generally odorless and very versatile in the way they can be used.
When cleaning paint from rollers, squeeze excess paint out of the roller using a folded piece of cardboard. Shape it to the roller and push excess paint out back into the can using a downward pushing motion. This is better than a roller scraper and cleaner.
When color-glazing a room, choose 1 wall to complete, tape off the 2 adjoining walls, and then complete the first wall. Now work on the opposite wall, again taping off the 2 adjoining walls ( use wide masking tape). When these completed walls are dry, do the same procedure with the 2 remaining walls. This way you will never have to work in another wet area, and the continuity of design will be good. The corners can be worked later for continuous patterns, using cut sponges or feathers or the tools you prefer.
A roller tray is the perfect material holder for color glazing walls. As you dip your sponges into the paint from the deep end of the tray, dab excess paint on the higher end, then apply it to your wall.
Dilute your oil-based enamel with Naphtha or Lacquer thinner; this will make it easier to apply, drying will be faster, and brush marks will flow out better than if using mineral spirits or other solvents.
It is not advisable to use paints that have been in storage for 3 years. Sometimes they are OK to touch up with, especially latex paints!
Never fill holes in new wood before the wood is primed. The same applies to stained wood. Stain first, then seal. Then fill holes. Color your putty to match the stain. Then varnish.
Looking for a creative touch on painting? Try Faux Painting.