How to Prepare a Room for Painting
by Jim Crawler on Oct 12, 2019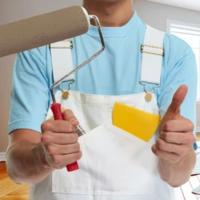 Painting is one of the final finishes you add to your room to beautify it. It's a project very popular among DIYers and veteran home remodelers because it's relatively easy, inexpensive, and does not require much expertise (although paying a veteran painter would surely make a huge difference).
But before you go on to start painting the room, you need to do some room preparation. Painting your room without prepping it first is a huge mistake, one you don't want to make.
Preparing your room for painting will ensure you have the right quality and finishing you desire, and it will also ensure you don't spill paint over the stuff you don't want the paint to come in contact with like furniture and electronics.
Prepping your room for painting usually involves 4 steps stated below.
Step 1: Clear out any items from the room
Step 2: Repairing any wall damage
Step 3: Covering floors and fixtures
Step 4: Priming the wall
Now, let's go through these steps one after the other for you to get a better understanding of the process.
Clearing out items from your room
If you're already living in the room, then you'll have items already in the room like furniture and electronics.
You don't want the paint to come in contact with these things. So, the first thing you need to do is to get these items out of the room.
Remove paintings if you have anyone hanging on the wall, and use a flathead screwdriver to remove switch plates and power outlet covers so you don't paint over them.
You can replace them and bring back all your furniture, your paintings, and electronics once your room is painted and ready to be inhabited again.
Repairing any wall damage
The next step is to repair any damage to the wall. If there are holes left by nails or tacks in the wall, you need to fill them so they are not visible after painting.
You can easily cover these holes using a drywall spackle. If the hole is small, you can easily fill it by rubbing the drywall spackle on it with your finger.
If it's larger, you can use something like a trowel or putty knife to spread the drywall spackle over it. Remember not to fill any holes you plan to use after the painting job is done, like fixture holes and holes for curtain rod holders.
Filling these holes will mean, you'll have to make other ones after the painting, which might also damage your paint job.
The next step in repairing your walls is to sand them using sandpaper. Use a 220-grit sandpaper or sanding block for this, and remember to wear a dust mask to prevent breathing in the dust.
If your home was built before 1978, remember to use a lead paint test kit to test for lead before sanding the wall. If it tests positive, consult a painting professional before going ahead with the sanding.
Once the sanding is done, wipe the wall with a sponge soaked in soapy water to remove any dirt and stains left by the sanding, and allow it to dry before proceeding.
Covering floors and fixtures from paint contamination
You need to cover your floor and any fixtures you could not remove from the room before you start painting.
Use a plastic cover for this, as paint cannot sift through it to get to your floor or furniture. As for windows and baseboards, you can use painter's tape to tape over them to cover them from paint.
Priming
This is the final step of preparing your room for painting. However, not every instance or circumstance will require you to prime your walls.
While repairing the wall damages in step 2, if you made some serious repairs that will still be noticeable after painting the wall, then you need to prime the wall.
Also, if you're painting over a dark color paint with light color paint, then priming is required to prevent the dark color from showing through your new paint and damaging your work or requiring you to use more paint than necessary.
On the other hand, if you're painting over light color paint with dark color paint, then there's no need to prime the wall.
If you're able to go through the four steps I've explained above, then you've prepared your room for painting.
The room is finally ready, and you can start painting.