How to Calculate the Right Amount of Paint for a Room
by Guest on Feb 13, 2020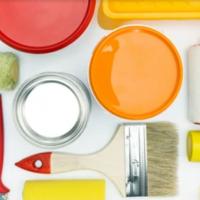 Painting a room, no matter how large or small, can create some confusion when it is time to purchase paint. You want to be sure that you get enough without going overboard. However, you also want to have a little extra to fix mistakes or to allow room for error. Very few stores will allow the paint to be returned, especially specialty shades, so it is essential to learn just how to calculate the right amount of paint for a room.
Most rooms need to have a coat of primer before you work with the actual shade of paint that the finished room will sport. Primer helps to play down flaws on the wall and will eliminate old stains or marks well. It also helps to cover old coats of paint and any awkward spots left from removing wallpaper or covering paneling. It takes much less primer for a coat in the average room, and one gallon will usually suffice for a 1-2 room project.
The average gallon of paint will allow for one coat in one room unless the height or width of the room is very large. For the best look, most people choose to apply two coats of paint, even with higher quality paint. Therefore, for the average room (roughly three hundred square feet, including the ceiling), you will need a gallon of good paint to adequately paint a room. If you need a second coat, two gallons are usually sufficient.
Specialty paints require a bit more planning since mixing them can result in different shades every time. It is best to buy a bit extra in cases like this, to ensure that the shades will be as close to the same as possible. While it is not necessary to purchase additional gallons, it is advisable to purchase at least one or two quarts extra in case of calculation errors or porous walls. If the room is very large, consider one extra gallon for safety's sake.
If you are planning to paint the ceiling as well, add about ½ gallon of paint to your order. Since the ceiling is typically a different color, purchase by the quart (two quarts total) to save money and eliminate waste. Choose colors that coordinate or complement for the best effect, but you can be very creative with paint even on the ceiling. Unwritten rules that say that the ceiling should be traditional white are outdated, and painting the ceiling can add a lot of sophistication and style to the room, especially when the paint highlights an outstanding feature, such as a cathedral or vaulted ceiling, or a great light fixture or chandelier.
You can save a significant amount of money by only getting as much paint as you need for the project. Unless you are using a specialty color that must be mixed, you can always return to the store and purchase another gallon or quart of the same type of paint later.