Copper Tubing Pipework
by Guest Post on Jan 5, 2010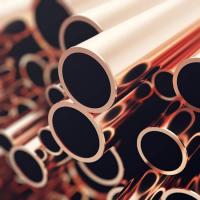 There are many different types of materials used in plumbing systems in the home. Lead is no longer used even though a large number of older houses still have a lead rising main. If there are any other lead pipes still being used in the plumbing system these should be replaced.
The most widely used material is copper tubing, it is lightweight, easy to solder, can be easily bent and can be used on both hot and cold water systems.
Copper tubing for use in domestic systems comes in three different sizes, these are 15mm, 22mm and 28mm. In older properties the original copper pipework will be imperial, this came in 1/2", 3/4" and 1". Although the difference in sizes seems obvious, metric pipework is measured externally while imperial pipework was measured internally, this makes the differences between the equivalent metric and imperial pipework very small.
When using soldered fittings to join imperial and metric pipework an adaptor must be used as an exact fit is necessary. The use of compression fittings is a bit more tolerable and an adaptor is not necessary, even though it is wise to buy imperial size olives for the imperial pipe.
REMINDER: Take care when using hand tools, hacksaws and cutting tools can be dangerous.
Measure Twice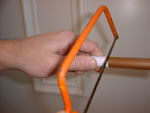 Carefully measure the length of pipe needed, make allowances for the pipe to push fully inside the fitting. To make sure of the correct length, measure the distance from the edge of the fitting to the internal stop and add this amount to the cutting position.
The cut must be square so if using a hacksaw wrap a piece of paper around the pipe to give a straight edge. Also, consider the pipe master soldering tool for larger projects.
Cut Once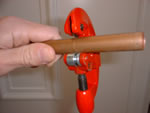 To make sure the cut is perfectly square use a pipe cutter, align the cutting wheel with your pencil mark and tighten the rollers until the pipe is clamped. Rotate the pipe cutter around the pipe and tighten the rollers each revolution to slowly increase the cutting depth.
Sizes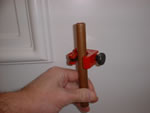 Pipe cutters come in different shapes and sizes, use a mini pipe cutter for working in awkward areas such as close to a skirting board or wall.
The Deburring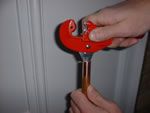 Pipe cutters give a clean cut on the outside of the pipe, but the inside of the pipe will still need deburring. Some pipe cutters come with a deburring tool which is used to remove the internal burr. If you don't have a deburring tool use a round file to clean the inside of the pipe.
Dirty or Clean?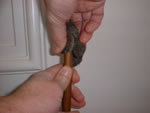 Clean the end of the cut pipe with wire wool, this makes sure there is no dirt that could prevent either a solder or a compression fitting from producing a perfect seal.
Done!
Once the pipe is clean and free from dirt and burrs the fitting or joint can be assembled.