How to Replace a Faucet
by Guest on Jan 12, 2010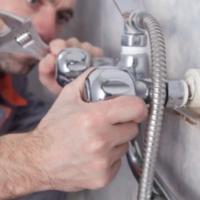 Replacing an old or leaking faucet is not a difficult task and doesn't require many tools. You will first need to select the right faucet replacement faucet, one that completely covers the mounting holes of the old faucet. The following steps will show you how to replace a faucet on a kitchen or bathroom sink.
How to Remove an Old Faucet:
Turn off the water supplyBoth hot and cold water valves located beneath the sink need to be shut off before you do any loosening of fittings. Turn on the faucet to drain away the remaining water and release any pressure.
Get proper tools
A monkey wrench or adjustable wrench is essential for the job. Because you will need to reach the fittings under the sink, a long basin wrench is also an important tool that allows you to grip the fitting at one end while turning the t-handle at the other.
Unscrew nuts and disconnect the faucet
Using the basin wrench, unscrew the nuts that attach the water supply hoses or pipes to the faucet and remove the hoses or pipes. Be careful not to unscrew the drain as well. Loosen the rest of the washers attaching the faucet to the sink. If the washers do not budge because of rust, apply penetrating oil to make the task easier. You can now remove the faucet from the sink.
Clean the area
To prepare the area for the new faucet, get rid of any buildup by dissolving it with a solution consisting of equal parts water and vinegar. Scrape the area clean with a putty knife or scouring pad.
How to Install a New Faucet:
Attach the faucet to the sink
Remove the washers on your new faucet and place them into the mounting holes at the top of the sink. Some faucets come with a gasket that serves as a seal between the faucet and the sink. Other faucets require the application of plumber's putty around the faucet base to seal it onto the top of the sink. Under the sink, secure the faucet by placing the washers back on and tightening them by hand.
Connect to the water supply
Attach the water supply hoses to the faucet and then to the valves. Firmly tighten the nuts with the wrench, making sure that they are not over-tightened. Check that the hot and cold water supply valves are correctly fitted to the corresponding hoses leading to the faucet. Usually, the hot water is attached on the left and the cold water on the right.
Check for leaks
Turn the hot and cold water valves back on. Turn on the faucet to its full capacity and run the water for a few minutes to ensure there are no leaks. If you do see leakage, check all the connections and fittings and tighten them if necessary.