Homeowner In The UK? Here's Why You Need to Know about Rainwater Drainage Systems
by liam armstrong on Feb 2, 2023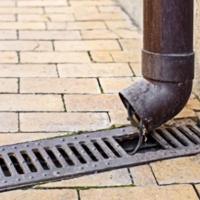 In the United Kingdom, there is an average of around 1,200 millimeters of rainfall annually. Keeping rainwater out of your home and away from your foundation is incredibly important. This can cause water damage or even structural issues.
Proper drainage is an essential part of creating the perfect outdoor space, and the installation of a rainwater drainage system is a crucial step. In this article,  we'll discuss everything you need to know about rainwater drainage systems in the UK- from installation to maintenance.
What is a rainwater drainage system, and why do I need one?
A rainwater drainage system is a network of pipes and drains that collect rainwater from your roof and direct it away from your home. If you're considering adding a rainwater drainage system to your home, it's important to understand the basics of how they can help you. First, they increase the resale value of your home since they are often demanded by new home buyers. Second, they can eliminate the need for you to pay for the installation and maintenance of gutters, and they require much less maintenance.
If your rainwater system isn't to scratch, it could cause all sorts of problems. Water could build up around your foundation, causing cracks and leaks. Your home could flood, ruining any stored belongings. And if the water isn't directed away from your home, it could pool around your landscaping and damage your plants.
It's imperative that your rainwater drainage system be installed correctly the first time, as it can be very difficult and costly to fix if it's not. If you're unsure about how to properly install a rainwater drainage system at your home in the south, there are many professional drainage specialists that can do it for you.
How do I know if I need a new drainage system installed on my property?
If you live in an area that experiences a lot of rainfall, or if you have noticed water accumulating on your property after a rainstorm, it may be time to consider installing a new rainwater drainage system. To see if you need a new drainage system, just take a look at your gutters. If they're blocked or overflowing, that means your current rainwater system can't handle the volume of water anymore, and you'll need to consider a replacement.
A good drainage system serves multiple purposes in homes. For one thing, it helps eliminate puddles in yards. If you're working on a shoestring budget and need to save money, it's a good idea to figure out if you need to repair your drainage system before sinking money into a new one. Remember, if you're planning on doing some home renovation, you may want to hire a professional!
What are the benefits of having a rainwater drainage system installed on my home or property?
If you're not sure how to install and maintain a rainwater drainage system on your own, it's best to pass on the work. A poorly installed drainage system can result in significant property damage if not properly maintained. But what are the benefits of having a rainwater drainage system in the first place?
Here are just a few benefits of rainwater planning:
By ensuring your drainage system is installed correctly, you can help preserve your home and belongings from water damage during heavy rains.

Not only do rainwater drainage systems improve your home's aesthetic, but they also protect against flooding.

A well-maintained drainage system can improve the overall value of your home or property.
How can I ensure that my rainwater drainage system is working properly?
In order to ensure that your rainwater drainage system is working properly, you should have it inspected and maintained regularly. This will help you catch any problems with your system before it becomes a costly issue. Some problems that you may run into include tree roots growing in the pipes, clogs caused by debris, and a variety of other issues.
The best way to stay on top of maintenance is to make sure you're proactive about it. You can start by taking a look at the general state of your exterior. Are there any areas that need to be addressed? Are there cracks in the foundation? Are there any weeds growing alongside the home? Take care of these potential problems right away.
Finally, remember that your rainwater drainage system is only one part of your home's overall drainage system. Make sure that all of your home's drains are clear and in good working order to prevent any problems.
Conclusion
To conclude, a rainwater drainage system is a crucial part of keeping your home and property dry during wet weather. Be sure to have it installed and maintained correctly in order to avoid any costly repairs down the road. Thanks for reading!