Mistakes too Many Make when Hiring Plumbers
by Boris Dzhingarov on Feb 19, 2015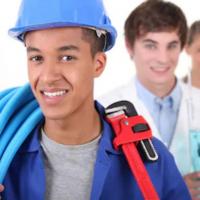 Nowadays, it is so much easier to find and hire a plumber than it used to be some time ago because the internet easily helps us to make a great choice. It is not at all difficult to find one that has a great experience but it is this exact availability that makes so many make mistakes. You must consider the following information so that you will not make these mistakes.
Not Understanding Plumber Specialty
Every single plumber out there will be able to fix faucets that leaks and will know what material take-off is but some of the plumbers will be specialized in specifics like hot water system installation, unclogging particularly hard to get to drains or troubleshooting a central plumbing system. Hiring a plumber that is specialized in the task that you need to be performed can be highly beneficial and will increase the chance of having the work done properly. Never settle for a plumber as he says he is good at something. Make sure that he is experienced and that he has the necessary education to take care of the job.
Not Reading Reviews
Most plumbers that are good have a website. This means that you can easily find reviews that are written about them and that were written by past clients. If it is impossible to find the reviews, you are most likely looking at a new plumber, which is usually not something you want to consider. If the services offered are really good, the reviews will also be good.
Making Assumptions about Payments
Based on some estimates that you find on the internet, you may assume that a plumber will charge you an amount of money for a service. The money that you will need to pay for the services that are offered by the plumber you hire may be more or less than what you initially imagined. At the same time, you should be aware of the fact that high-quality services can easily cost you more since, in this industry, you usually do get what you pay for.
Zero Guarantees
Working with a plumber without having a guarantee that the work will be done properly is not at all a great idea. You need to always sign a contract and read everything that is written in it. That is what will offer protection for your property.