Top Tips for Preparing Your Kitchen for a Sale
by Guest Post on Nov 25, 2010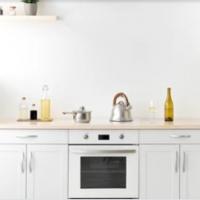 The kitchen is one of the most important rooms in a house yet it is often overlooked while living in the house. Not many people come over to visit and compliment on how nice the kitchen is, but you know when you're looking for a new house that you want a nice kitchen. Chances are you spend a large portion of your day in the kitchen preparing meals and cleaning up after them, and each buyer considers how that part of their day is going to feel inside each kitchen they think about potentially buying.
When you are on the other side of things and trying to sell your house, it's important to make your kitchen look as appealing as possible to the families that are considering purchasing your house. Many people think that requires expensive renovations. Chances are your kitchen isn't too terrible if you have been cooking in it during the years you lived there. Maybe it could be better, but you don't have to spend all the money on new counter tops and cabinet doors before moving. Maybe you think the kitchen would look better with granite countertops – as many would – but don't want to spend the money when you aren't even going to live there anymore. There are a few things you can do to fix up your kitchen and make it presentable without spending a lot of money on renovating the actual counters, cabinets, and appliances.
The first tip for preparing your kitchen for a sale is to make sure it's clean. Don't just put all the forks and knives in a drawer and the plates in the cabinet rather than leaving them on the counter. Don't just rearrange the appliances on the countertops to make it look like there is more space. You need to actually clean the entire kitchen to make sure it looks the best it possibly can. Clean the countertops and floors and appliances, but then also clean the sink, the outside of cabinets, and the walls. Food can often splatter on the walls while you're cooking and may not be noticeable when you clean the kitchen during your weekly cleaning, but it can slowly give the walls a grungy look that may be noticeable and a turnoff for a potential buyer. Remember that these tips are both for viewings and photographs, you want to make sure your kitchen looks its best in both the cable display at the estate agents and in person.
The second tip is to de-clutter the kitchen. You probably don't need all those items you have lined up on your countertops. You could probably put the spice rack you use all the time in the cabinet and make the counters look more presentable. You don't need to have all the pots and pans out on the stove to make the stove look more presentable. Put away any of the unnecessary items in the kitchen that don't add to its appearance in a positive, fresh way. That being said, this next tip might sound a little confusing because you are supposed to de-clutter your kitchen.
It is a good idea to add a few accessories to your kitchen to make it look more presentable, fresh, and ready to sell. You can put a nice vase of fresh flowers on your countertop or a clean bowl of colorful fruit. Set a teapot on your stove to give the kitchen a vintage feel if that works with the style of your kitchen. But still remember, less is more when you're trying to sell a kitchen.