5 Benefits of Having a Fire Sprinkler System Installed
by Boris Dzhingarov on Feb 26, 2018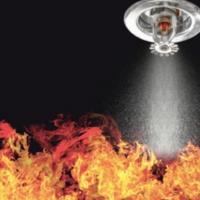 Many building regulations require that buildings over 55 feet be fitted with fire sprinkler systems. This is due to the fact that sprinkler systems can sometimes mean the difference between life and death as well as how much damage a fire causes to a building. They are an extremely popular form of fire protection in both commercial and residential buildings. Fire sprinkler systems are easy to install and affordable for many people. Here are some of the other great benefits they have to offer.
1. Water Conservation
Fire sprinkler systems use very little water but are extremely effective in putting out fires. They are designed to work specifically on areas that are emitting smoke, which helps to control water usage and even prevents flooding. You can also install as few or as many sprinkler heads as you need to adequately cover your property and prevent fires from getting out of control.
2. Quick Fire Control
Fatalities and extensive property damage often occur because a fire gets out of control. In many instances, if you are able to stop a fire from spreading, you can prevent injuries, damage, and even death. The trick to doing this is to stop the fire in its very early stages. Fire sprinkler systems act quickly as soon as they detect smoke in an area, effectively stopping the fire before it has a chance to do much damage.
3. An Affordable Option
A fire sprinkler system is extremely affordable to install and maintain and once it has been set up, will serve you for many years without requiring major repairs. It will also save you thousands of dollars that you would have used to replace or repair damaged furniture and property by stopping fires in good time. This means that even if the initial outlay may seem a bit steep, you will recover it many times over in form of savings of money you would have spent if the sprinkler system had not stopped the fire.
4. Saving Lives
Sometimes a sprinkler system is all that stands between a tiny fire accident and a full-blown inferno. This is because it is extremely sensitive to smoke and other fire triggers, putting out fires before they develop into something worse and in the event, preventing loss of life and property. Whether you are installing one sprinkler head for a tiny studio apartment or a system of multiple heads in a large property, you can be sure that these systems will keep you safe and sound while minimizing damage to your property.
5. Higher Property Values
Properties with fire sprinkler systems tend to be a lot more attractive than those without as buyers or renters will appreciate the fact that the owner has gone out of their way to make the property safer. This is also equally true when it comes to commercial real estate, especially in industries that are heavily regulated for fire hazards that need to remain in compliance.
Installing a fire sprinkler system is a sure way to prevent fire damage, save lives and increase property value. Easy to install, requiring low maintenance, and offering a variety of other benefits, fire sprinkler systems are great for controlling and preventing fires without breaking the bank.