5 Home Repair Tasks You Should Never DIY
by Guest Post on Apr 22, 2019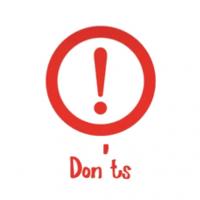 These days with the craze of home improvement shows on the rise, DIY home jobs are the next popular thing. These shows definitely enthrall viewers, and everyone starts thinking that they can do the oddest of home jobs on their own. Saving money and unleashing one's creativity are two factors that influence this decision, but there are some jobs that are better left to the experts. We are definitely not saying that one can't DIY. Certain tasks are easy and can be attempted, but certain categories of jobs could be dangerous; it's best to avoid those. Here are the top five jobs that you should never DIY.
Electrical Jobs
Anything dealing with electric surely tops the list of dangerous DIY tasks, and you should never take chances with them. The risk of electrocuting yourself or causing a short circuit can have life-threatening effects. Changing a light bulb may not present much difficulty, but things like HVAC installations and repair should never be attempted. For such tasks, it's always better to sign up for a maintenance plan and leave the job in the hands of experts. 
Plumbing Jobs
Plumbing jobs may not seem very dangerous, and you can do simple things like fixing a shower head. When it comes to leakages, though, expert supervision is advised. A lot of people consider leakage as a normal plumbing issue, but leakages and their temporary solutions often lead to long-term structural issues. If the leakage is a severe one, it requires tools that normally aren't part of the home tool kit. 
Asbestos Removal
Removing asbestos is one of the most hazardous activities one can undertake. Though it may not seem like a dangerous job and does not typically cause any immediate effects, asbestos is proven to be extremely hazardous for lungs. If you inhale it while you work, asbestos can lead to lung cancer. 
Waterproofing and Removing Biological Growth 
Waterproofing isn't a layman's job, as it needs much more than just digging around your house and installing a membrane. This job needs both professional assistance and professional products. These may not come cheap, but last for a long time and come with a warranty. A one-time investment will last for 15 to 20 years. 
Repairing Gas Appliances 
We all know that gas appliances can be dangerous when used improperly. Therefore, dealing with a gas pipe leakage or attempting to work with gas cylinders, geysers, ovens, or even water heaters could prove extremely dangerous; call in a professional instead. Next time you consider attempting DIY for home repairs, ask yourself these questions:
Can I get hurt or cause any damage to the house while attempting this? 
Is the money I am saving worth the time and effort involved?
Will cleaning the mess, later on, be a bigger task than the job itself?
Am I 100 percent sure that watching a how-to video will teach me to do the job like a pro?
With these considerations in mind, you'll be better equipped to decide whether it's worthwhile to do the job yourself, or if hiring a professional is the only way to go.