Security Camera Installation: How to Choose the Right Security System for Your Home
by Valerie Muscat on Apr 10, 2019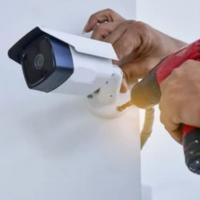 Taking the necessary measures to ensure you—and your family—enjoy a good night's sleep is not negotiable. No wonder home security is number one on the list of priorities for most homeowners. Home security camera installation agencies provide is worth considering if you want one of the most effective ways of keeping robbers at bay—regardless of the time of day. But even if the perpetrators do commit the crime, then a security camera will at least help catch them.
But how do you decide which is the right security camera to install in your home? The internet won't make your search easy considering the thousands of security cameras at your disposal. This is why we took the liberty to give you a few pointers regarding what to look for in a security camera.
Where to Place Your Camera
Before we look at these considerations, let's first discuss where you must place these cameras to capture as much as possible. Remember location is everything if you want to get the most out of your camera. A few placement recommendations include:
Front door because 34% of burglars enter through the front door
Back door since an average of 22% of thieves will break in via the back door
Near off-street windows, because some robbers prefer to enter through windows that are away from street view
Basement
Driveway
Types of Security Cameras
It helps to know the type of security cameras on the market if you want to pick the right one for your needs:
Indoor security camera: Indoor cameras will help you keep an eye on what's happening in your home; from monitoring your kids to visitors that enter your premises.
Outdoor security camera: Are you looking to deter robbers or catch them in the act? An outdoor security camera will help you achieve this.
Wireless security camera: If you prefer the convenience of cameras that operate via Wi-Fi and wireless components, then consider wireless security cameras.
Monitored security cameras: Monitored security cameras can be part of a home security system or a stand-alone unit. Regardless of the one you pick, they both function effectively and work as extra security reinforcement.
What to Consider Before Investing in a Home Security Camera
There are a few features you need to look out for before buying a security camera to ensure that you buy the right one for your home.
Weatherproof
A weatherproof camera is what you need especially if you're looking for an outside security camera. If you can invest in one with a high weatherproof rating that would be ideal. This means not only will it withstand the weather elements it'll be continuously exposed to, but it'll also last longer.
Opt for cameras suited for the weather conditions in your geographical area—be it hot or cold weather climates.
Night Vision
Still, on outdoor cameras, you must consider how the camera will function at night. This means you must check if the camera can record clear images even in low-light situations. A good idea is to look at the camera's night vision range. And if it can detect moving objects at night, that would be even better.
Motion Detection
A camera's motion detection ability is a functionality that's necessary for all security cameras—not only outdoor units.
Cameras with motion detection capabilities are designed to send you notifications when motion is observed. As a result, you're alerted of any suspicious activity so that you can further investigate the situation if necessary.
Field of View
To capture as much of the surroundings as possible, you need to consider the field of view of the camera. This refers to how wide an angle a camera can record. Knowing a camera's field of view allows you to determine where you'll place it and whether you'll need more than one.
Image Quality
The picture quality of any security camera is influenced by the image and video resolution. A camera with a high resolution is ideal as it allows you to see images more clearly. This clarity will come in handy if you have to identify culprits.
Camera Movement
A camera that can tilt or rotate is likely to capture a wider field of view than a static camera. So if you want to record a larger area, then consider investing in a security camera that can move.  
Sound
Some manufacturers took it a step further by designing cameras that not only record images, but produce sound too. Such a feature will work to your advantage if you want to give your child or delivery man instruction via the camera.
You have the option of purchasing a unit that allows for two-way communication so that you can interact with people on the other end.
Cost
The cost of the security camera is another factor you must consider because these devices are available at different prices. You don't have to buy the most expensive camera on the market. The trick is to buy a device that has features you actually need or you'll end up spending more money than you need to.
Final Words
Whichever camera you decide on make sure it's both easy to install and use. It must also have good picture quality so that you can view images & videos clearly and eliminate guesswork about who entered your property. Be ready the next time someone has the audacity to trespass.