Why Every Homeowner Should Own a Pair of Work Boots
by Guest on May 1, 2019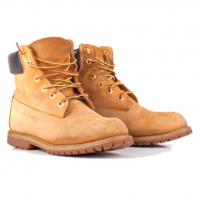 Every homeowner should have access to a few must-have items for the home. You may be surprised to find a pair of work boots on that list. Find out why work boots are a necessity for every homeowner.
Complete DIY Projects Safely
Regardless of the condition that your house is in when you purchase it, you are likely to complete many DIY projects throughout the time you own it. Household trends are constantly changing, and updates are an important part of maintaining your home's value. Additionally, many homeowners want to make changes that better accommodate their living needs.
Owning a pair of quality leather work boots can make DIY home projects easier and safer. Work boots often have characteristics that protect you from many of the household risks you may come across. Steel-toed leather boots can protect your >feet in the event you drop something heavy on them. Waterproof barriers may also be important if you are handling plumbing or other water-related projects.
Tackle Household Maintenance Chores Without Injuring Your Feet
Homes require routine maintenance. Some of the projects you may choose to complete yourself include sink repairs, refinishing a deck, painting a bathroom, or repairing damaged roof shingles. Completing household maintenance often means you are also working with tools. Avoid injuring your toes or feet when using these tools by protecting them with a good pair of work boots.
Sometimes household maintenance tasks also include outdoor projects. When you work outdoors, you do not have much control over the temperature. Choosing a pair of work boots that have antibacterial properties and moisture-wicking fabrics can prevent your feet from developing infections in humid weather. On the other hand, leather work boots can also provide the insulation you need to keep your feet warm during colder winter months.
Protect Your Feet During Cleaning Projects
Even if you are not the DIY type, you are likely to engage in many household cleaning projects. Some of these projects can get especially dirty. Fortunately, work boots not only protect your feet from heavy tools but can also protect them from harsh chemicals or dirty debris. 
Wearing your everyday household shoes during heavy cleaning projects can ruin them whereas leather work boots are designed to withstand exposure to the harshest of materials. Work boots are more durable and will last through many of your household projects.
>Ease Foot Strain While Gardening
Gardening is another area in which you will want a good pair of work boots. Gardening exposes you to a few risks including bugs, insecticides, and heavy landscaping tools. Additionally, you want a shoe that protects you against the blades of a lawnmower or weed whipper.  
Comfort is another feature to consider in a gardening shoe. Gardeners tend to spend much time on their feet while they navigate their way through the backyard and garden landscapes. Wearing the wrong pair of shoes can leave you with foot and leg pains as well as lower back problems. 
Every homeowner should own at least one pair of high-quality leather work boots. These work boots will be useful to you when completing DIY projects, cleaning tasks, and household maintenance and repairs.