Power Tool Safety Starts with Common Sense
by Guest Post on May 15, 2012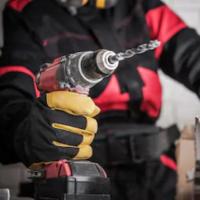 Power tool safety means taking necessary precautions to avoid killing or injuring yourself or someone else when working with power tools. Every home project means subjecting yourself to objects and substances that can burn, electrocute, cut, or stab you; sever an extremity, or permanently injure your eyesight or hearing. Make sure you don't do any of these things by exercising common sense and anticipating problems before they occur.
General Power Tool Safety Tips
Make sure all tools are correctly assembled with safety guards in place and switches in working order.
Inspect tools regularly and provide proper maintenance

make sure there are no frayed cords, broken or lose parts, or loose switches;
moving parts should be kept clean and lubricated according to manufacturers' instructions, and blades should be kept sharp.

Wear suitable clothing that will not become entangled in moving parts, such as ties or loose, long sleeves; remove jewelry; wear appropriate shoes; tie back long hair, and use gloves when recommended.
Do not operate a power tool if you are tired of using medication that can make you drowsy.
Keep children, pets, and visitors away from work areas.
Wear safety goggles, dust masks, and earplugs when recommended, even for quick jobs.
Cords should be properly grounded, kept well away from cutting edges, and not used at all in damp or wet conditions.
Never leave power tools running unattended and avoid accidental start-ups – keep your finger off the switch button until you are ready to begin.
Don't pull the plug by yanking on the cord.
Use good lighting in work areas.
Store power tools safely in a dry place and do not wrap the cords around tools.
Safety Tips for Power Saws
Power saws make life easier for the do-it-yourselfer, but they demand particular safety measures. The newest type, the sliding compound miter saw, is mounted on a metal stand with a rotating table that allows you to angle the blade between the table and the fence, which means you can easily cut compound angles such as those needed for crown molding. The powerhead slides along rails similar to the radial-arm saw but is lighter, smaller, and more portable. Table saw comparisons between the standard radial-arm saw, the power miter saw, and the sliding power miter saw demonstrate that the job dictates the choice:
Standard radial-arm – most versatile, greatest capacity, and takes up less space than a miter saw
A standard power miter saw – best for taking to a work site if you are cutting mostly 2x4s and trim
12-inch sliding compound miter saw – best for taking to a work site if you need the cross-cutting capacity
Whichever style you choose, remember these power tool safety tips:
Always use safety glasses and earplugs when operating a power saw.
Unplug the saw when changing blades, use only the recommended size and make sure the blade is securely attached.
Hold the workpiece tightly against the back fence, use clamps and guards, keep your free hand away from the blade, maintain a firm footing, and never reach too far for safety.
Never cut very small pieces – they can kick back and cause injury.
Other Safety Hints
Always inform someone when you are working, and keep a fire extinguisher, a first aid kit, and cell phone within easy reach.
Purchase and use a laser tape measure when you need to take measurements in hard-to-reach areas. Laser tape measures, such as Stanley tape measures, will give you a digital readout on an LCD screen in feet and inches, or in metric if that is your preference, and over distances that used to take two or three measurements with the older, retractable tape measures.
Mentally rehearse what you are going to do before you begin a job.
You can find reviews of products and their safety features, as well as price and brand comparisons on such websites as Consumer Reports, The Canadian Home Workshop, and Popular Mechanics Online. Think "Power Tool Safety." It can save life and limb.