Ceiling Fans: How to Decorate and Update an Old Fan
by Guest Post on May 23, 2010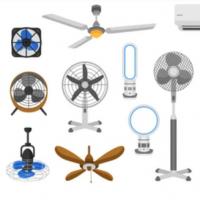 If you have ever shopped for ceiling fans you have probably noticed the many styles and designs to choose from, and you have probably also noticed the prices. The more stylish the fans, the more costly they are, and even the most expensive ceiling fans do not always add a lot of colors or unique designs to a room. Instead of replacing a perfectly good ceiling fan that lacks style and color, consider punching up an old fixture with a few new additions. The following information provides several easy ideas for decorating and updating an old ceiling fan. With a little creativity, you can turn an outdated lackluster ceiling fan into a new and decorative part of the home.
Interesting Pulls to Decorate with Style
Most ceiling fans come with simple pulls that do not add color or style to the room. Simply changing the fan pulls can transform the look of an old and outdated ceiling fan, and this is a very easy and inexpensive way to give an old fan and new look. Fan pulls are available in many different styles and colors; from angels to zebras you will find just the right fan pulls to match the theme or style of the room.
If you cannot find the exact fan pull you want, consider making one with a small trinket or even colorful braided satin ribbons. Almost any small sun catcher can be used as a fan pull, seashells can be drilled and hung, or considered a string of beautiful beads. Use your imagination and sense of creativity to find a fan pull that will match the theme and style of the room.
Decorate with Colorful New Globes
In addition to new fan pulls consider buying new globes for old outdated ceiling fans. Most ceiling fans with lights do not include colorful shades, and a little color can make a huge difference in the look and feel of a room. Search online for new globes that will fit the fixtures, or visit your local home improvement store to discover the many choices. Cobalt blue or colorful swirled shades are exceptionally impressive, and they will make an ordinary ceiling fan look better than new.
Paint Old Blades to Decorate with a Completely New Look
If the blades are in good condition but lack the color you want, consider taking them down and giving them a coat of shiny enamel. Begin by sanding the finish if it is glossy so the paint will adhere, and after wiping away any dust or debris, coat the blades with high gloss enamel. It will provide a smooth finish and will not show any brush marks, and best of all it will provide years of lasting beauty. Follow product label instructions for best results, and allow the blades to dry completely before reinstalling.
Decorate with Room-Enhancing Light Bulbs
Light bulbs can make a tremendous difference when updating the look of an old ceiling fan. Choose room-enhancing light bulbs instead of the ordinary variety. The light in the room will look extraordinarily natural, and along with the other updates, the light the ceiling fan casts will give it a whole new look. With new pulls, new globes, freshly painted sleek looking colorful blades, and high-quality lighting, the fan will add unique style and design to your home.