Leaky Ceilings and Telltale Signs of Ongoing Problems
by Guest on Jan 19, 2010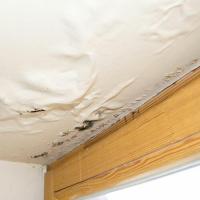 If you have a leak in your ceiling, it's a sure sign that water is getting into your home somewhere. Whether the problem lies in your roof, upstairs indoor plumbing pipes that run overhead downstairs, or chimney problems, you need to find the source of the problem fast to avoid water damage to your home.
Roofing Problems
There are a number of things that can go wrong on your roof that can cause water to leak into your home. If you have an older shingle roof, you might have a missing shingle that got blown off of your roof, or there might be cracks or a missing nail from the roof sheathing. There might also be a problem in one of the valleys on your roof.
If you suspect that your ceiling leak might be caused by a roofing problem, you will need to inspect your roof carefully in the area close to where the leak is occurring, Be careful if you are walking on your roof, not only to avoid falling but also because walking on the roof can actually cause additional cracking in your roof materials. Other roofing materials commonly used include slate, concrete, or clay tile, so you want to be careful not to damage any of these materials while doing your inspection.
Flashing Problems
Another area to inspect for leaks is the flashings. If you have a roof that stops at a vertical wall, there needs to be a metal flashing to direct the water stream appropriately. These areas can be sometimes troublesome as far as leaks go. Wall step flashings, which you'll find along a vertical wall where the roof climbs against it, are another place you'll want to look for any possible holes or rusted areas that could be causing your leak. You should only be able to see a small portion of the flashing, so if you see more than that, it's a good sign of a problem. You'll also want to check any plumbing vent or furnace vent flashings a well, including checking to make sure the storm collar hasn't come loose. The flashing around the chimney is another prime spot for leaks to occur, as even a hairline crack or small hole in this area can cause water leaks.
Problems Caused by Weather
If an ice dam develops on your roof, this can cause water to back up under the shingles and flashings. This can cause water to drip inside your home once the ice thaws. You can also end up with water problems caused by rain that is driven by the wind. This can drive water under your roofing material, causing a water drip. High winds can also blow shingles completely off of your roof.
Plumbing Issues
Not all water leak problems are caused by your roof. If the ceiling leak is on the downstairs floor, and you have plumbing pipes running overhead that supply the upstairs, you'll want to check any suspect pipes or connections that run close to the area of the ceiling leak as well.