Top 5 Reasons to Buy Venetian Blinds
by Guest Post on Dec 28, 2017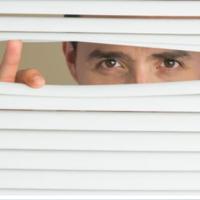 Window treatment is not as easy as it sounds. You have to consider so many things- the dimensions of the room, the price of the window treatment, how much fabric you'll require based on the size of the window, and the overall look you're going for. While fabric seems like a good choice, it comes with its own hassles- expense and upkeep being only two of them. Shutters are cumbersome and not always stylish. Why not consider Venetian blinds instead?
Here are some of the best reasons to buy Venetian blinds.
Spoilt for choice- no matter what your requirement is, you can always find a Venetian blind that works for you. Wood, plastic, aluminum, printed blinds, faux finish- the amount of choice at your disposal is phenomenal. So no matter where you want to hang the blinds, you can find something that works for you.
Relatively inexpensive- compared to rich fabric material and its cost, Venetian blinds will cost you so much less. What's more, installation is a breeze as well and you can do it yourself, saving on labor costs too.
Room specific- curtains aren't a good idea in a kitchen, given the fumes and safety hazards. That's not the case with blinds. They work well in the kitchen too. In a bathroom, blinds can be in aluminum, making them more hygienic than plastic. If you're looking for material that doesn't warp and bend because of the moisture content in the space and the created humidity, then aluminum blinds are the best for you.
Cleaning is a breeze- the hassle with the curtain is that it needs cleaning. Every few months you need to bring it down, run it in the washing machine, dry it, iron it and hang it up or put it away. Sometimes, with expensive curtains like velvet and silk, you will need to get down to the dry cleaner for cleaning. Everything adds up to a lot of work. Not so with the blinds. A vacuum cleaner works great. As does a feather duster. If you want to give it a thorough cleaning you don't need expensive cleaning material; some light shampoo or soap solution will work just fine. An easy trick to clean the blinds? Slip-on a sock on your hand and wipe each blind clean.
Control light- with a curtain, it's full or half closed, full or half opened. You can do varying degrees of course, but always at the cost of natural light. Fully open and everyone can see what's going on in your house. Fully closed and you have privacy but no view or light. Not so with the blinds- the slats are designed in such a way that their angles can be adjusted to bring in light and maintain privacy, down to the minutest angle.
Apart from these reasons, Venetian blinds can elevate the look of a room and make it elegant, trendy, or stylish, depending on what you want. There's something classic about a light colored wood blind over a window. They come with or without cords and can even be controlled with a remote.