5 Things to Consider Before Buying a Bathroom Mirror
by Furniture Canada on Dec 20, 2017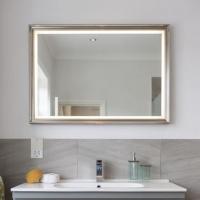 Although many of us spend a good chunk of time looking at ourselves in the mirror, rarely do we give our mirrors much thought, especially if it's mainly used to seeing our reflection. Yet mirrors play a vital role in enhancing the overall look of a room. Without them, your rooms would appear a lot smaller and duller.
For instance, just imagine walking into a bathroom that has no mirrors: it would resemble a prison cell. This is why when it comes to selecting your bathroom mirror, it's important to think about certain design elements if you want your room to look great. Below are five things to consider when deciding on a bathroom mirror.
1. Mirror Size
When it comes to size, a rule of thumb is to ensure that the width of the mirror is relative to the width of the bathroom vanity. It's recommended there are at least two inches between the edge of the mirror and the edge of the vanity. This prevents your mirror and vanity from looking too large and bulky. It's also important to keep in mind the height of the wall, lighting, and vanity so that your mirror can fit nicely between these spaces. Consider leaving about six inches between the vanity and the bottom edge of the mirror.
2. Placement
Finding a place for your bathroom mirror is not always as simple as hanging it above your vanity. You also need to keep in mind measurements. To help you visualize, use painter's tape and/or cut out newspapers and tape them to the wall where you intend to place the mirror. As well, if there's a window in your bathroom, consider making the most of its natural lighting by selecting a mirror adjacent to the window.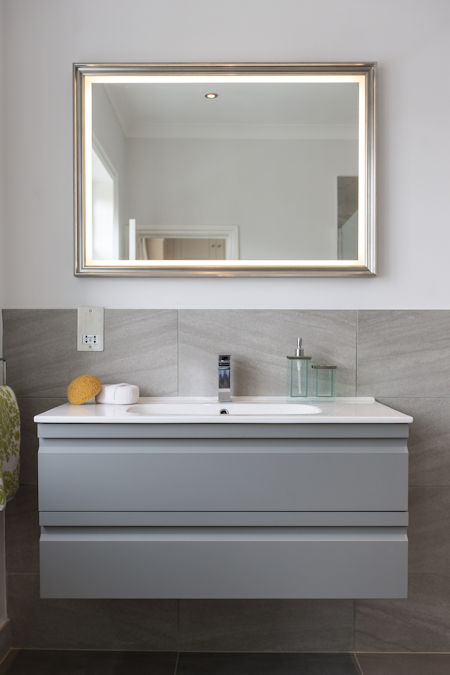 3. Moisture resistance
The ornamental frame that surrounds each mirror may not be suited for all bathroom walls. Avoid wood and certain metal frames if your bathroom wall tends to have moisture problems. Look for a mirror that's labeled as moisture resistant. These labels are often found on the frame as well as the backing. As well, frameless, beveled edge mirrors are a great moisture resistant alternative and come in a variety of shapes and sizes.
4. Type of Wall
If you're considering a large and hefty mirror, be sure you're able to mount it to the wall. Some older bathrooms have plaster walls that can crack and peel under excess weight. On the other hand, drywalls are better for heavy mounting projects.
Source:
http://www.furniture.ca/product/item/furniture/bedroom/mirrors/fleetwood-mirror/1915286/1907391
5. Style  
Most home builders install a very basic default bathroom mirror. However, if you want to give your bathroom an upgrade, you need to replace your old mirror with something that has more personality and style. Bathroom mirrors come in a variety of styles and shapes to accommodate any room. Going for a classic look or something more modern? A frameless beveled mirror or a metal-framed mirror would make a timeless choice.
There are no hard rules
The above list is only guidelines and are not set in stone. So have fun and make the room yours by finding something that reflects your taste. Keep in mind that it doesn't have to be a permanent fixture; you can always replace your mirror. Depending on your budget, bathroom mirrors are relatively inexpensive (they usually range from $50-$1000). This isn't to say that once you find a mirror, it wouldn't serve as a valuable decor piece for many years to come. As Helena Christensen says, "There will always be a desire for something new, fresh and innovative, as well as yearning and respect for timeless elegance and beauty."