What is Available in Wood Siding
by Guest Post on May 23, 2010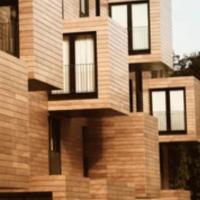 If you are choosing wood siding for your home, you will have a variety of different types from which to choose. Wood siding is a good, durable choice for the exterior of a home, but there are some things you'll want to take into consideration so that you choose the type that is best for your particular needs. There are also differences in application methods and materials that you will want to understand before you choose your wood siding.
Plywood
Plywood siding is extremely durable, often lasting thirty years or more when properly installed and maintained. It's easy to install, and provides additional structural support to the walls it is installed on. There are a number of different textures and patterns to choose from when purchasing plywood siding, and it's typically manufactured from woods such as Southern pine, redwood, and Western red cedar.
Clapboard
Clapboards are long planks of wood, usually made from woods such as Ponderosa pine or Douglas fir, which are laid horizontally in an overlapping fashion onto the side of the house. It is very versatile and blends in with a wide variety of architectural styles. Redwood and cedar are the most popular types of clapboard, because of their excellent resistance to wood decay.
 
Tongue and Groove
This type of wood siding fits and locks together in a pattern, and is very versatile as well as attractive. Not only can it be installed vertically, horizontally, or even diagonally, but it also comes in either a smooth or a rough finish, and can be either clear or knotty in appearance. It can be made from a variety of different types of wood, including teak, pine, or cedar. It looks great with many different styles of homes.  
Shakes and Shingles
These two other extremely versatile styles of wood siding look great with many different styles of homes. They are most commonly made from cedar, which makes them very resilient and resistant to decay. They are not difficult to install, but the installation is tedious and time-consuming. They look rustic and attractive and can be purchased in various grades. Depending on the area's climate, and how well the siding is maintained over the years, they can easily last anywhere from twenty to forty years.
 
Hardboard
The material that hardboard siding is made from is a composite product, formed from wood chips that are pressed into sheets and cut. It costs less than solid wood siding, and yet it is quite durable and strong. It's very important to carefully seal all joints, and to keep the installation of hardboard siding at least six inches from the ground, especially in damper climates, to prevent the chance that the siding will become damaged due to moisture and the weather. It comes in a variety of styles, such as lapboard, board and batten, and stucco.  
Vertical Siding
This is often used on homes designed to have a rustic appearance, or on barns and farm structures. The vertical boards run the length of the wall. They can be either tongue and groove, or butt joined. If butt joined, they are generally finished in a "board and batten" style, with a full strip of wood nailed over the joint for protection.