Choosing a French Door Refrigerator
by Guest Post on Mar 29, 2011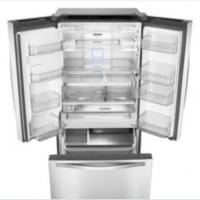 If you are looking for a new refrigerator, you might consider French door refrigerators. Unlike a traditional refrigerator, which has a freezer on top, French door refrigerators have dual doors on top and a pullout freezer drawer on the bottom. You will love this innovative and convenient design.
French door refrigerators have become popular recently because they offer more shelf space for the foods that you use every day. You don't have to bend down to reach the fruits and vegetables. French door refrigerators have plenty of room in the doors to store a gallon of milk (or several gallons if you wanted) while leaving more storage space inside the fridge. The pullout freezer usually has several drawers so you can better organize your frozen food. French door refrigerators are perfect for those who like to entertain because there is plenty of space to place trays of food before your guests arrive.
It is important to find French door refrigerators that meet the needs of your family and your kitchen. This type of fridge works best for most kitchens, no matter the size because the dual doors do not require a lot of floor space to swing open. But there are a few other things to think about when selecting your new refrigerator.
The first thing you need to consider is whether or not you want a counter-depth refrigerator. A counter-depth refrigerator aligns with the counter and the cabinets around it. These kinds of French door refrigerators fit easily into any kitchen and are very pleasing to look at. These may be the best option, especially if floor space is limited in your kitchen. The only problem you may encounter is that counter-depth refrigerators do not offer as much storage space. So if you have a larger family or entertain visitors often, a regular-depth refrigerator may be the best option. This type offers about five more inches of depth than a counter-depth refrigerator.
Another thing to consider in choosing French door refrigerators is color and style, especially if the design and aesthetics of your kitchen are important to you. The look of a kitchen is important to many people because they spend a lot of time in it. Colors include black, white, bisque, etc., or you may want to get a stainless steel refrigerator. Make sure to decide what color you want early, even before setting out to purchase French door refrigerators because this will help you narrow down the style and brand as you try to find a fridge that works best—and looks best—in your kitchen.
Once you decide about what size and color you would like your French door refrigerators to be, make sure to check out the different features of each brand and style. Some have several drawers under the dual refrigerator doors, and some have only one drawer. Some French door refrigerators have extra features that were included for chefs who want to make sure their ingredients stay fresh.
When you set out to pick your new French door refrigerators, the number of colors, styles, and brands may be confusing. But using these guidelines, and the help of a professional if needed, you will be able to select the fridge that is best for you and your family.