Maintaining Your Hot Tubs
by Guest on Aug 11, 2015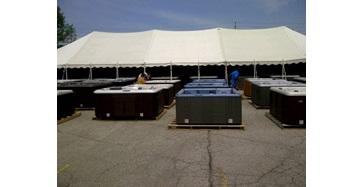 No one wants to use dirty or non maintained hot tubs. Whether it's in your home or at the Spa, you want to soak in something that looks and smells amazing. I mean you will not be able to use it alone, so at least the best thing you can do is make sure that whenever you use it, it is as clean as can be. Contrary to what you might think, cleaning your hot tub does not have to be expensive, and you do not have to outsource the work. Following a few simple tips, it is possible for you to clean your hot tubs.
The first thing you should do is get a cleaner or cleaning agent. To be able to maintain your hot tub, it is recommended that you get a cleaner that will not spoil the surface of the tub, but which will only remove the dirt that will have built up. you want a cleaner that is strong enough to remove dirt, but not strong enough to spoil the tub surface. For this matter, you need to get a mild, on abrasive cleaner which will do the job right. To help the cleaner along, you can use a soft rug to rub on the dirt. In case you do not intend to clean the whole tub, you can use a simple cleaner, for example baking soda.
Cleaning the surface of your spa will not be enough to keep it clean or to maintain it properly. It is also important that you clean the spa's filtration system. Often times, it is common for the filtration system to get clogged, especially if it is not cleaned often. It is important that you remember to clean the system at least once a month, so as to make sure that it does not get so clogged. Believe me, you wouldn't want to be in a clogged tub and neither would you want to pay for its cleaning. There are a number of filter cleaners that you can use, but you need to make sure that they are ones that are compatible with your tub.
In addition to using filter cleaners, you can also consider spraying the cartridges with a garden hose. The power of the water coming out of the hose will help loosen any debris or dirt that might be stuck between the filter pleats. Also, the hose will make your work easier because you will not have to rub at the debris.
All in all, cleaning your tub is a very important aspect of maintenance that you should not take lightly. If cleaned often, you will be assured of soaking in a thoroughly cleaned tub.