5 Reasons to Let a Professional Plumber Handle That Plumbing Job
by Guest on May 10, 2018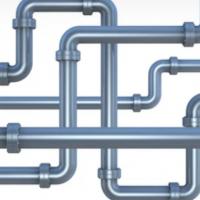 When it comes to home improvement, some homeowners swear by having a professional do it while others would rather opt for the DIY route. While doing some jobs around your home yourself can be a sense of pride, it can also be dangerous if you're not entirely sure what you're doing.
For any projects that involve water, a professional plumber is the right way to go. Water pipes that aren't installed correctly can be detrimental to your home, and the last thing you want to do is spend money on a project only to have poorly installed pipes or drains ruin it. If your next home project involves water, check out the following reasons you'll want to consider letting a professional plumber handle it.
1. Professional plumbers are quicker.
Dealing with water pipes is not always easy. Depending on what type of pipes you have in your home, you may need to sweat the pipes to get them to join together correctly. This means you'll need to drain all the water out of the pipe and use the right materials to get the pipes to stick together. If you have never sweated pipes before, then this is not a job you want to try during a big renovation. Instead, allowing a professional plumber to handle the job will ensure it goes by much faster, as these individuals have the experience to get it done.
2. Professional plumbers know the codes.
Municipalities have certain building codes that must be followed, and professional plumbers know what the codes are in these locations. This means they'll be able to ensure your home's plumbing is done so according to code, which makes your home safer and doesn't slow up the renovation process. If you're not familiar with building codes in your area and you attempt a plumbing project yourself, you could significantly delay the construction by doing it the wrong way.
3. Professional plumbers know what will work.
Installing a new sink may not always require the help of a professional plumber, but any plumbing project that requires significant changes to the layout of your pipes will. As a homeowner, you do not want to take moving pipes into your own hands. Instead, you'll want to leave this to the hands of a professional. According to professional plumbers, an emergency plumber requires a good deal of planning and manual labor, and trying to cut corners in this process will usually result in something going wrong that just increases the cost of the overall project." If you want to tackle a project that has significant plumbing changes, then you'll want to bring in a professional to let you know how to best get it done.
4. Professional plumbers can save you money.
Although most homeowners assume using a professional will end up costing more than doing it yourself, it's not always the case, especially when it comes to plumbing. Opting for a professional plumber who knows what they're doing and will do it right the first time will save you time and money. After all, if you can rest assured the job is done right the first time, then you'll know you won't have to waste money buying more products just to get it done. In addition, with a professional plumber, you can count on them doing the job correctly, so it doesn't involve any damage that will cost more money to repair.
5. Professional plumbers can solve problems.
When you're renovating a room in your home, you never know what you're going to run into until you take down walls. If you're planning a bathroom or kitchen renovation that involves plumbing, you may find yourself running into a problem after you've demoed the area. If you're doing this project on your own, you may not be sure what will solve the problem, or you may choose the wrong solution. However, using a professional who has experience with plumbing will ensure your problem is solved in the best possible way. This reduces the headache you have to experience by trying to do it all yourself.
As a homeowner, it makes sense for you to invest properly in your home remodel. If you are not a contractor or professional tradesperson, then it's best to leave these tasks to a professional and reap the benefits. If your job requires plumbing, then having a professional plumber on hand to do the job for you will make the entire process simpler.