Advantages of Purchasing a French Door Refrigerator
by Guest Post on Mar 29, 2011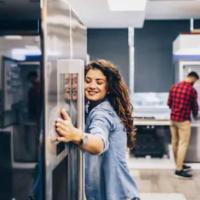 If you are building a new home, remodeling your kitchen, or simply upgrading your appliances, you may want to consider French door refrigerators for both their form and functionality. Unlike many major appliances, you won't have to sacrifice one for the other!
French door refrigerators, sometimes referred to as double door refrigerators, have side-by-side refrigerator compartments with dual doors and a pull-out freezer compartment on the bottom. Some models even boast two smooth-gliding freezer drawers.
The twin doors have hidden hinges, giving the refrigerator a sleeker, sexier, more modern look. Despite common misconception, your décor does not have to be modern or contemporary in order for it to look appropriate. Some models have customizable panels and handles, making them extremely versatile and enabling them to complement or blend in with transitional or traditional styles as well. Not to mention that French door refrigerators are ideal for any size space—even a narrow galley style kitchen—as the dual doors require a smaller opening radius than single door refrigerators.
Perhaps the most convenient and functional feature of French door refrigerators is the shelf height and design. Having shelves at eye level makes it easier to find and reach what you need. Most models come with full width slide out glass shelves complete with a spill catching lip. This makes it easier to take large items such as party trays or turkeys in and out of the fridge.
The other interior features of French door Refrigerators vary widely based on the model and manufacturer. As mentioned before, slide out glass shelves are standard on most models. Other features include gallon door bins to store milk, adjustable door bins for condiments, climate-controlled beverage compartments, humidity-controlled produce bins, full-width deli/meat drawers, and LED interior lighting. Some models even boast quick cool or turbo freeze elements.
Popular exterior features for French door refrigerators include filtered water and ice dispensers (many of which are color matched to the door), LCD touch screen controls, door alarms, and child locks.
French door refrigerators are also designed with the environment in mind and have Energy Star ratings. Most models run using a linear compressor and have a multi-flow air system. This enables the refrigerator to run more quietly and efficiently, using approximately 20 percent less energy than its predecessors. Of course, the other benefit to adding an energy-efficient appliance to your home is a substantial reduction on your utility bills.
With such abundant features and benefits, you may think that French door refrigerators aren't within your budget. Think again! Typical French door refrigerators are reasonably priced and can easily fit into your budget. If you prefer a commercial-grade appliance, those are going to be priced a little bit higher but are still well worth the investment.
There are many benefits and advantages of purchasing French door refrigerators—style versatility, convenience, and functionality, to name a few. If you are in the market to purchase a new refrigerator in the near future, French door refrigerators are worth serious consideration.