Know the Difference: Washer/Dryer Combos and Stackable Washer/Dryers
by Guest on Oct 3, 2013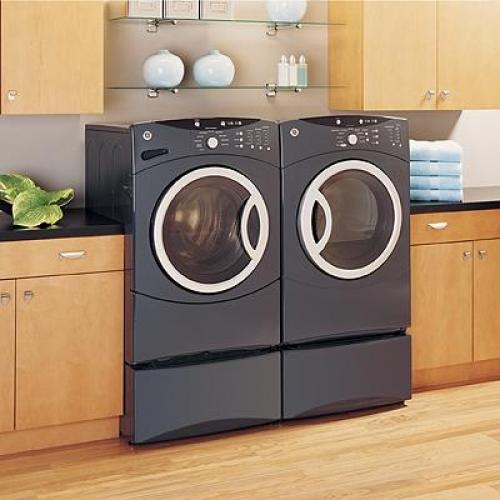 When it comes time to purchase new appliances for your home, one of the major decisions that you'll have to make is whether to get a washer and dryer combo unit or a stackable washer and dryer. While most people are well aware of the fact that a washer is different from a dryer, those same people might not realize that combo units and stackable units are not the same thing and should not be treated as such. Each type has its fair share of advantages and disadvantages over the other, and each is more than worth exploring when it comes time to upgrade the existing units in your home. Before you get your heart set on any one particular unit or pull out your credit card, however, there are a few key things that you're going to want to keep in mind.
Stacked Washer Dryers
One of the major benefits of a stacked washer dryer unit comes in the amount of space you can save by purchasing such a unit. Instead of sitting next to each other as two separate units would, stackable units are stacked on top of one another. Both the washer and the dryer have the same basic dimensions and attach firmly to one another to avoid any mishaps. Both units are frontloading, which means that they take up minimal space in an area like a small hallway or utility closet. Another benefit is that it allows for separate washing and drying, which can allow you to work on multiple loads of laundry at a single time.
Stackable washer dryers are much more energy-efficient than standard units. They are also cheaper and quieter than traditional machines. One major negative aspect, however, comes in the size of the load you can wash or dry at one time. Because the units themselves are smaller, they only allow for smaller loads.
Combo Washer Dryers
Combo washer dryer units are also called "all in one" washer dryer. As their name suggests, one machine does all the washing and drying that you could need. One of the major benefits of these types of units is that you don't have to switch laundry between loads. You can load up your laundry, input your settings and return when it is time for folding. Because there is only one unit to manage instead of two, these combo units also take up significantly less space. For example, a Haier washer dry combo can fit easily in a small closet in your home.
One of the major disadvantages to these types of units, however, is that they can't handle loads as large as standard washers and dryers can. Most combo units can only handle loads up to fifteen pounds, which could result in additional loads per day if you live in a home with many people. Additionally, they take a very long time to get from the beginning to the end of the laundry process. Most combo units take around four hours to complete.