Things You Should Consider When Refacing Your Kitchen Cabinets
by Guest Post on Sep 7, 2010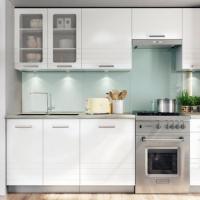 Kitchens require a heavy bit of refurbishing after a considerable period of usage. Therefore, if you are planning to reface your kitchen then you may also want to look at the rest of the appliances and built-in objects in the area before deciding to change them or add a few extras for style as well as utility.
Cabinet counters are very useful in kitchens. If you don't have any, you might want to fix up a set of cabinets in your kitchen this time when you reface it. In fact, storage space is essential in a kitchen in order to keep utensils, dry food, and ingredients safely away from insects and humidity.
If you wish to paint over the existing furniture in the kitchen, ensure that the paint job is done smoothly. In case you are planning to fit a new sink or a set of shelves on one side of the kitchen, you must finish painting them before installing them.
Cabinets in the kitchen are usually made from wood or glass. Sometimes veneer and lamination are also used. Some wood types are quite expensive. Therefore, you may not want to spend so much money on refacing your kitchen. If you still want a stylish look in your kitchen you can always use laminates instead of costly wood.
When you are trying to incorporate new equipment such as a microwave oven or adding extra cabinets to your kitchen, try to avoid blocking the ground. Use up the space above instead. Therefore, fit things into the wall and make shelves for everything so that you can save on space and are able to move around freely in the kitchen.
Ask your friends and family about the best people for fitting and refurbishing your kitchen. Go online to see which company offers the best deals for kitchen renovation. It is important that the new objects that are included in your kitchen are uniform in appearance to the existing set of things.
Businesses that quote free prices usually send one of their people to your kitchen to take measurements to customize the fittings according to the available space.
Are you looking to update your kitchen? Cherry kitchen cabinets might be just what you need.