Benefits of Owning an Electric Range
by Guest on Mar 29, 2011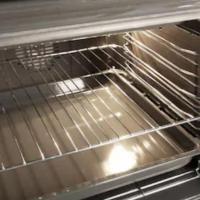 When deciding to purchase a range for your home or business kitchen, you get two power options to choose from- an electric range or a gas range. Sometimes the power hookups in your kitchen determine for you, but many kitchens are equipped to power either an electric range or a gas range. The range that you select can quickly become a focal point of your kitchen. Your range is two appliances in one; both a stovetop for cooking and an oven for baking and cooking. There are many types of electric range, and many features that you can choose from. Before you purchase, it's a good idea to become familiar with the options that are out there and the type of features that would work best for you. Electric range models come in many different sizes to accommodate larger or smaller kitchens. You can find an electric range in a wide variety of finishes, colors, and styles. Electric range models often come with such features as self-cleaning, variable size burners, warming trays, warming drawers, and a multitude of external finishes.
Owning an electric range can come with a lot of benefits. There are a lot of options to choose from and electric ranges are becoming more and more energy-efficient and aesthetically pleasing. One of the most popular benefits of the electric range is the choice that you get for the range's top finish. There are two types of top finishes on the electric range: a smooth top finish that's usually made of glass or ceramic, and a coil element finish. Smooth top finishes are much newer than the coil element top and have a very modern feel. Made with very heavy ceramic or glass, cleaning the smooth top finish electric range is a snap. Because the surface is solid and even, you can easily wipe off grease, crumbs, or spillage with a rag or paper towel. Smooth top finishes can be a little more expensive than the coil element counterparts and can be inconvenient to replace if they get broken or damaged. Coil element tops are more traditional tops for the electric range. They consist of metallic spirals on the top of your electric range that heat up as the electricity flows through them. Coil elements are typically a bit less expensive than the smooth top ranges but can be a little tricky to clean thoroughly, as you have to work around the coiling elements.
The idea for the electric range has been around since the 1850s when the first patent was awarded for an "electro-heater surface." This platinum coiled idea was improved upon and eventually showcased in 1893 at the Chicago World's Fair and billed as part of the world's first fully-electric kitchen. The electric range became popular slowly, as many communities had yet to become set up for electricity. The coil element top was the first type of electric range to become available for purchase. In the 1970s, the first smooth top electric range became available to the public and has since become the more popular style of electric range.