Advice on Finding the Right French Door Refrigerator
by Guest Post on Mar 29, 2011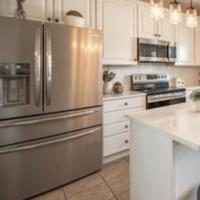 There are many things to consider when purchasing French door refrigerators. The size of your family, the size and layout of your kitchen, energy efficiency, and price are just a few of the things to consider. As with any purchase, you definitely want to get the most bang for your buck, so to speak. Extra features such as built-in ice makers and water dispensers, shelving options, and capacity will almost certainly factor into your decision. This article will help you with your decision on selecting the right French door refrigerators.
French door refrigerators are becoming more and more popular. No doubt you've decided on this type of appliance for its stylish appearance combined with its functionality. French door refrigerators combine the convenience of a large, bottom drawer freezer with a side-by-side refrigerator.
French door refrigerators are ideal for growing families since there will be no more stretching or using a step stool to access a top freezer. French door refrigerators also allow maximum view and access to the refrigerator portion of the appliance, while allowing for features such as ice and water dispensers. You may also want to consider shelving options. Depending on your needs, you may want shelves that are easily adjustable or slide out. You may want extra deep shelves on the inside of the doors, or you may have specific needs concerning vegetable crispers. French door refrigerators can easily fit into any kitchen and add a look of modern, stylish sophistication.
With the concern of rising energy costs, you will definitely want to consider the efficiency of French door refrigerators. Things that might impact this are the appliance's size and additional features, as well as insulation and other design factors. A knowledgeable salesperson can assist you in your needs in the area of energy efficiency.
As with any product on the market, the cost of French door refrigerators can vary greatly. Naturally, you will want to save money where possible, but remember that a little bit of initial investment can pay huge dividends in the long run. Consider the warranty offered on the appliance. Also, French door refrigerators can come equipped with advanced water filtration options, ice dispensing options, computerized temperature control options, and other options such as audible alert tones if a door is left ajar. All of these things will factor into the initial cost.
Gone are the days when the only choices you had in a new refrigerator consisted of "freezer on top/ refrigerator on bottom" models. Likewise, gone are the days of simple side-by-side refrigerator/freezer models. Technology, innovation, and the demand for functionality combined with style have led to many developments in kitchen appliances. As with any purchase you make, being armed with knowledge can make all the difference in the world when it comes to selecting the right product. Choosing the right French door refrigerators for you is certainly no exception. Best of luck as you search for the right one.