Finding the Right Front Load Washer
by Guest on Mar 29, 2011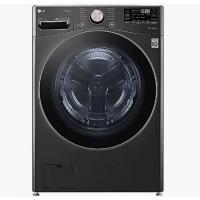 In this day and age, people are always trying to find ways to save money. Anything that can help you save energy, time, and cash, in the long run, is usually worth investing in. One of the latest home improvement appliances that you can purchase to help you do just that is the front load washer. Front-load washers were created to help with the cost of operation, energy efficiency, and also design improvement. While they may be a bit of an initial investment, they bring enough benefits to more than make up for the cost.
When contemplating energy-efficient machines like front load washers, you will want to make sure that you take into consideration all of the different benefits that they offer. One good way to ensure that your appliance will have economically friendly qualities is to look for any type of energy guide stickers that are placed on them. You can read through these and understand how the front load washers compare when it comes to energy consumption.
The next thing that you will want to investigate is the spin speed of the front load washers. You can locate machines that have spin speeds ranging between 1000-1200 rpm. Speeds that are running this high will ensure that the front load washer can remove any residual moisture that may be leftover from the process. If your clothing is retaining less moisture after being washed, then it is quicker, and cheaper, to dry it. Front-load washers can help you match your drying times with your washing cycles. This can help to reduce the number of times that you have to go back and forth between the laundry room to check on your wash and dry cycles. If you have delicates or items that can be washed by hand, then you will want to look for front load washers that have lower spin speeds.
Most front load washers have even more improved features when it comes to settings. You can easily set your front load washers to a certain fabric setting and it will allow the appropriate temperature, cycle, spin speed, and also water level. Depending on whether it is colors, delicates, or whites, it will adjust the run time to fit. Many front load washers have microprocessors that can calculate the proper settings so no guesswork is needed on your part.
If you have a little more money to spend and want to look into the high-end front load washers, then you can find some that have their water heaters attached. This will give you maximum control over washing temperatures and will make sure that your machine is running at an optimal level. Other high-level front load washers will contain indicator lights as well as delay timers to help make your laundry day even more convenient.
Although front load washers are still a pretty new item on the market, they are quickly gaining in popularity. They have established a solid track record so far and have enough features to make them well worth the initial investment.