5 Reasons Why You Must have a Porch Swing
by Rohit on Jun 15, 2018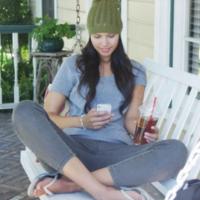 When you think of a porch swing, you would think of a nice decorative piece for your house. However, a lesser known fact is that these swings actually have a lot of benefits. Porch swings are known to be beneficial especially in the health aspect. So, let us look at five reasons why having a porch swing would be useful to you.
1. Health Benefits
We shall first be talking about the various health benefits that porch swings have. They are known to be stress relievers to people who have used them. Not only this but using these swings have given results of better circulation in the body. The fact of reducing stress has been confirmed by medical professionals who think so due to the relaxing back and forth motion that the swing has. Porch swings are known to improve concentration levels of the brain. All these can be achieved by something as simple as a swing.
2. Stylish Addition
You can't ignore the fact that porch swings can be a stylish addition to your home. Whether you have it in your back porch or the front, you'll be sure of some compliments. You can have the porch swing as a statement piece or you can blend it away while matching it to the rest of your furniture. Porch swings give away a homely yet chic vibe. It will surely make you the envy of the neighborhood for all the right reasons.
3. Spend Time with Loved Ones
Who doesn't love a little family time? Especially in today's world where people are only considerate when it comes to earning a living. This often separates them from their families and creates a distance between them. Having a porch swing means that you can sit down with your loved ones and unwind. Have a little chat, ask each other about their day, and just be with one another. This increases the bond that you may or may not have lost with the ones you love. It's incredible how this piece of furniture can strengthen bonds between people. It is truly something to be amazed by.
4. You Get to Be Outside
Having a porch swing redefines the phrase, "Getting some fresh air" on another level. Utilizing a porch swing at least once a day gets you outside. And that is a reason to have one as it is. Because today we have become too lazy to even step outside for a walk, just to get some sun maybe. However, the porch swing gets you outside without leaving the comfort of your home boundaries. Everyone needs a moderate amount of sunlight consumption a day and having a swing gives you just that. You don't have to scorch out in the sun. Just a few minutes outdoors can-do wonders. Sunlight has the dose of vitamin D that you may be lacking. Since porch swings have so many benefits, we don't see why you haven't bought one yet.
5. Emergency Selling Value
Suppose you reach a scenario where you have to sell your home. A porch swing can add something to the house, something that maybe it lacked before. It can act as a selling point. The porch swing can add selling value to the home. So, why not add one to maybe excite some potential buyers. This is because extra furniture pieces like porch swings really get the buyer thinking. It really acts like a bonus feature to the home which will obviously be beneficial to you, the seller. So, what are you waiting for? Get your own now!