Getting the Most out of Front Load Washers
by Guest on Nov 4, 2011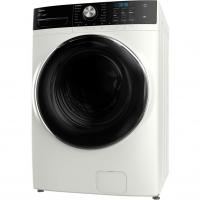 Many people are turning to front load washers to get great results with their family's laundry. Cleaning laundry is a chore that both men and women have had to deal with for many years. There have been great advances since the time of the washboard and basin, and one of the newest is front load washers. These modern home appliances offer advanced cleaning power and many convenient features.

Many people purchase front load washers because they look so great in the laundry room. These beautiful appliances come in a wide range of styles and in many fashion colors to suit any taste. There are front load washers with round doors and some with squared-off exterior doors. Of course, most are available with matching dryers that can be used side by side or stacked for a clean line in the laundry room. In addition to creating a great look, stacking front load washers with their matching dryers helps to make better use of available space. The ability to stack also makes a big difference if living in an apartment. There is usually very limited space in apartments for washers and dryers. Sometimes all that is available is a closet, so stacking the washer and dryer may be the only way to avoid going to the Laundromat to do the wash. Stacking the appliances also saves space in a larger laundry room and makes room for extra storage cabinets, an ironing center, or many other items.

Of course, one of the main benefits provided by front load washers is the extra load capacity for washing laundry. While they may not have the same capacity as a commercial washer, front load washers offer the ability to wash more clothes in each load than most top load washers. Many have the capacity for several loads of jeans to be washed at the same time with ease. This makes washing more cost-effective and quicker at the same time. To get the most out of front load washers, consumers should become familiar with the manufacturers' recommendations for sorting different types of laundry and maximizing the load capacity and cycle settings.

Washing laundry at the proper temperature and with the right laundry aids can prolong the life of fabrics and keep colors brighter. The special cycle settings on front load washers can make the right cycles and temperatures available at the touch of a button. Some front load washers incorporate a temperature-sensing feature that can ensure water is at the right temperature before it enters the washer. This makes sure that clothes are washed at the best temperature for both fabric and color preservation.

Whatever the reason for purchasing front load washers, consumers are sure to be delighted with their performance in handling all their laundry needs. Not only are they great to look at, but they also save time, money, and effort in one of the chores many people would rather not do. Anytime a job that has to be done becomes a job that's easy to do, it's a great thing.