How to Buy Front Load Washers
by Guest on Oct 29, 2011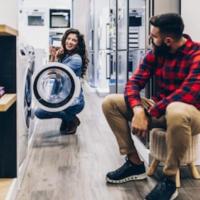 Many consumers are getting excited about the great features and benefits offered by front load washers and want to get one for their home. It can be both fun and confusing to select the right model for a family's needs. By comparing features along with price, most consumers can find a model that meets their needs and their budgets at the same time.
For those looking for the most efficiency, they may want to compare both the energy rating and the washing capacity of front-load washers. Saving money by washing fewer loads each week and spending less per load for electricity are great benefits. Most front load washers have stainless steel tubs which makes them last longer without the worry of the bin rusting. Stainless steel can also help to reduce odors that could be passed to fabrics.
If washing delicate laundry or even hand washables, consumers may want to look for front load washers that offer specific cycles and temperature settings. Some models offer temperature sensors that can regulate the water temperature entering the washer. Others have cycles that delicately treat hand washable fabrics. Soak cycles and special stain settings are also available on many models.
For extra cleaning features, consumers look to front load washers. Many have specific stain treating cycles that help to penetrate deep into stains to remove them better. Some front load washers offer a steam cycle that can re-invigorate fabrics without washing by quickly removing wrinkles and getting the ready to wear without ironing. In addition to removing wrinkles, the steam cycle can also help to remove odors and allergens from even the most delicate fabrics. Laundry can be cleaner than ever before.
Convenience is a feature many consumers require. Front-load washers can make cleaning laundry more convenient than ever. Some of the more popular features include soak cycles, pre-wash, extra wash, extra spin, and delayed start. These settings can make doing laundry easy. The delayed start allows for placing the laundry in the washer in the morning and setting it to wash just in time to go into the dryer at the end of the day. The extra spin cycle in front load washers can remove excess water from clothing and reduce the overall drying time needed for each load of laundry.
For those looking for washers that not only works well but also looks great in the laundry room, front load washers are a great choice. Manufacturers offer a wide range of styles and options. They come in many fashion colors that look great with any décor. And, to improve both the look and convenience, there are optional stacking kits or pedestals that can move front load washers to just the right height for most users. Along with looking great, stacked washer and dryer sets can free up floor space to help maximize the use of any laundry space.
Finding out about all the available features for front load washers can make the shopping experience easy and worry-free. Learning about the available options enables consumers to make choices that meet their personal needs and take their laundry to a new level.