Causes and Treatments for Mold on Houseplants
by Guest Post on Jan 27, 2011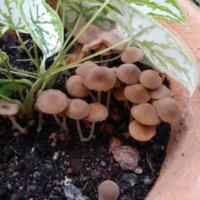 Your houseplants are breathing the same air that you are so if you start to see mold growing on the leaves, stems, and soil of your houseplants, you need to take action. The bad news is that mold can be dangerous for humans, animals, and plants … the good news is that you're about to find out how to remove it and prevent it from ever coming back.
Where Mold Comes From
Mold spreads quickly, easily, and unceasingly by spreading millions of spores through the air. Mold spores are everywhere and they can grow on almost any organic material.  Mold is very fond of high humidity, high temperatures (75°F and above), darkness, and stagnant air.  Sudden temperature changes can also cause mold spores to release from existing colonies, creating a crisis for you and your plants. 
Characteristics of Mold
Check to see if the mold on your houseplants is active or dormant.  Active mold appears fuzzy and soft and will smear easily when touched.  Dormant mold should appear powdery and can be easily wiped off  - but don't do it inside the house!  Spores will escape and grow elsewhere.
Mold can be found anywhere on your plants:  leaves, flowers, stems, and even the soil that your plant grows in.  Various types of mold can affect your plants negatively … anything from weakening them by compromising your plant's ability to absorb oxygen, water, and nutrients to killing it outright. Mold removal from your plant comes down to a few basic steps.
How to Remove Mold from Houseplants
In all cases, take the plant outside to treat it and, to be safe, wear rubber gloves.  Mold spores will spread in the process of treating your houseplant and some types of mold are toxic to humans.  Make sure the mold spores don't spread inside your house!
Cut away the affected parts of the plant including dead and dying leaves and flowers.
Remove any mold found in the soil by removing an inch of affected soil and replacing it with fresh indoor plant soil.
Spray the plant with a simple, homemade, non-toxic fungicide: fill a spray bottle with water, add a tablespoon of baking soda and a teaspoon of vegetable oil and spray the whole plant with the mixture.
Increase the air circulation in the area in which the plant lives and make sure it gets as much sun as the plant can bear.  Sunlight is mold's worst enemy!
Try Some Simple Prevention Techniques
Add milk to your watering schedule to boost your houseplant's immunity to mold.  Use 1 part milk to 10 parts water.
Water the base of the plant and take care to keep water off of the leaves and flowers of the plant. 
Remove leaves near the soil.  Warm, damp, mulchy conditions will help the mold to grow.
Make sure there is plenty of air circulating around your plant and give it a little sunshine. 
Be careful not to overwater which creates the overly moist, warm environment that mold loves.  Houseplants usually do not require watering until the top inch of soil is dry.
If you live in an area with high humidity, use a dehumidifier and try to keep the temperature and humidity as constant as possible.
Mold on your houseplants is unsightly at best and a health hazard at worst.  Fortunately, most mold is fairly easy to treat … and even easier to prevent.  Use the tips above, act fast, be consistent and your houseplants can be mold free year round!