What makes Front Load Washers so Efficient?
by Guest on Mar 29, 2011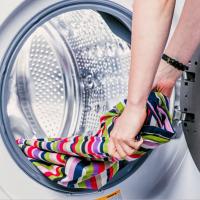 One of the hottest new items out in the appliance market is front-load washers. These incredible machines can offer convenience and comfort like never before. Maybe you have been to a friend's house or a local home improvement store and seen these sleek, modern machines and may have wondered what makes them different than other washing machines that are currently out on the market.

The benefits of front-load washers start with how efficient they can be. With most of the world turning towards eco-friendly products that promote clean living and energy-saving capabilities, the front load washer fits the bill perfectly. One of the main ways that front load washers help to conserve energy is by the amount of water that they use in the process of washing clothes. They use a much smaller quantity of water than top loaders use, and can reduce the amount used by as much as 50%. If you purchase a front load washer you can feel good knowing that you are conserving water as well as getting the added benefit of saving money on your utility bills.

The next way that front load washers improve efficiency is directly related to the amount of water that they use. Because most washers need to heat water, they use up a lot of energy in the process and if you are using the warm or hot settings, then your washer is going to be working to try and heat all of that water to correctly wash the clothing. If there is less water to heat, then the front load washers will use less energy to heat it. This is a major advantage that front load washers have over the old top-loading washers.

Next, front load washers can save on energy by the speed at which they spin. Since most front load washers have a spin speed that is much higher than other washers, they usually dry out the clothes much more than a normal washer would. This will help you to save money on drying the clothes because it won't take as long. The other major benefit is for homeowners that have large families and need to do a lot of loads of laundry in a day. With front load washers, washing and drying cycles are usually closer to the same length which means more loads can be done in a day without having to travel back and forth between the laundry room.

The last energy-efficient feature that front load washers boast is that of the soap that is used. These machines can do the same cleansing job with a smaller amount of soap. Many detergents are expensive and not environmentally friendly, and by using less of these items you can help preserve the Earth as well as save money on frequently purchasing new laundry soaps.

As you can see, front load washers have a lot of energy-efficient qualities to give to their owners. If you are in the market for a new washing machine then you should seriously consider going with front load washers.