Love Your Landscape: Creating the Perfect Outdoor Space for Your Home is Easy
by Guest Post on Nov 26, 2017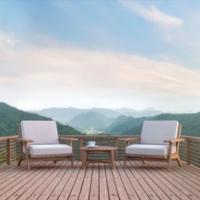 There comes a time for all homeowners, when you realize you want to settle into your home and make it livable for the long run. For some, that's when your kids have grown a bit, and family time gradually shifts from running around to hanging out. And for others, settling happens later in life, when they finally decide to make the home of their dreams.
Whenever that time may come, however, many find investing in the outdoors as much a priority as livening up the indoors. Everyone loves spending time outside; from taking a cup of coffee to basking in the afternoon sun and even having a dinner party with friends. A well-laid out landscape will improve the homey feel of any house and make it inviting for all.
If you've been recently thinking about reinventing your home, it's essential that you take the time to plan out your outdoor living space. Creating the perfect landscape may require some creativity, but it doesn't have to be challenging.
Below are four essential elements to keep in mind for a successful outdoor space.
1. Greens
Plants and flowers are the first things everyone thinks about when they picture the perfect landscape, and should, therefore, be at the top of your list of considerations. Greenery adds life and color to a home, freshens up the air, and connects you with nature in a pleasant, uplifting and inspiring way.
A well-maintained lawn and potted plants usually do the trick, but you can stretch it a little further with vertical gardens and trimmed flowery bushes. Most importantly, however, ensure your greens and flowers go well with your house for that perfect indoor-outdoor blend.
2. Functionality
Designing a great landscape goes beyond making it lush and vibrant. You will also want to invest in elements that make your outdoors useful. A dining table and comfortable seating, for instance, will be great for your outdoor brunches and barbecues. Setting up a weather-proof lounge is also an excellent idea, and if you have kids, lay out a playing area.
For smaller spaces, go for versatile furniture-types like stools, which can be both seats and side tables. Foldable chairs and tables are also ideal, as you can store them away when not in use.
3. Feature Piece
Feature pieces have the same effect both outdoors and indoors. They set the feel of the room and form pleasant focus points for the eyes. A good piece can also be a great conversation starter.
If you've figured out your greens and your landscape is adequately functional, consider putting up a water feature or a sculpture, or hanging up an eye-catching chandelier above your outdoor dining table. Be sure to position your piece such that it is visible from inside the house, to encourage guests to step out for a closer look.
4. Accessories
To complete the landscape, accessorize with extras like paper lanterns, candles, and fairy lights to give your space a distinct mood or personality. Even something as simple as brightly colored cushions or an outdoor rug can be the perfect final touch to a well-designed space.
Conclusion
Enhancing your outdoor space is an excellent way to breathe life into your home and make you feel more like a homeowner. Whether you decide to do it on your own or with a landscaping professional, developing your plan around the elements above will surely get you the living space you desire.