Oiled vs. Oil-less Air Compressors
by Guest on Jan 10, 2011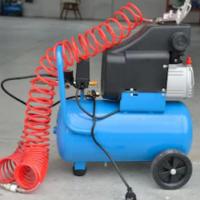 When it comes to home handyman projects, nothing beats air-powered tools for certain jobs. But as quick, smooth, and efficient as air-powered tools are, they all share one common drawback: they won't work without a source of pressurized air. That's stating the obvious, of course, but if you're going to use air tools for your home projects, you'll need to have access to an air compressor.
That doesn't necessarily mean you'll need to buy an air compressor. In fact, if you just work the occasional project where you need the use of air tools, you'd probably be better off renting an air compressor. But if you find that you need (or would like) the use of an air compressor on a fairly regular basis, then it's probably worth considering purchasing one.
If you do decide to go shopping for an air compressor, one of the more important decisions you'll need to make is whether to buy an oiled or oil-less compressor.
Cylinders, Pistons, Friction, Heat
To understand why air compressors require some form of lubrication, let's use your car as an analogy.
The engine in your car produces power by burning a mixture of gasoline and air within enclosed cylinders. As the gas mixture burns in the cylinder, the resulting hot, expanding gases drive the piston in the cylinder downwards. The downward force of the piston is transmitted to the drive wheels of your car when you engage the transmission.
An air compressor works in much the same way but in reverse. A motor (usually electrical) drives a piston within a cylinder. As the piston is driven upward in the cylinder, it compresses the air in the cylinder. That's how an air compressor pressurizes air.
But in both the air compressor and your car engine, the pistons that are reciprocating thousands of times per minute within close tolerance cylinders must be lubricated in some manner. Without lubrication, friction and heat would soon render both compressor and car engines into useless lumps of hot metal. Your car engine uses a lubricating oil system to minimize friction and carry heat away from the cylinder and piston.
Many air compressors also rely upon oil lubrication, and these are called oiled compressors. But some air compressors utilize an anti-friction lining such as Teflon instead of oil to reduce friction between cylinder and piston. These air compressors, of course, are called oil-less compressors.
Why Does it Matter?
Both types of air compressor lubrication methods have their respective advantages and disadvantages.
Oil-lubricated air compressors tend to be more durable and have longer service lives. They'll generally hold up to hard use better and deliver many more trouble-free hours of service than oil-less compressors. But oiled compressors tend to be heavier, bulkier, and can sometimes be difficult to get going in very cold weather that thickens the oil.
And just as your car requires regular oil changes, so will your oiled compressor (you can do the oil change yourself, though; no need to haul your compressor to the nearest Quick Lube!). You'll also need to be sure to routinely check the oil level in your compressor. There's also a possibility of some of the lubricating oil ending up in the pressurized air that you'll be using, which can be a problem for certain jobs (painting prep, for example).
Oil-less air compressors are usually considerably lighter, and of course, eliminate the need to check and change the oil. Oil-less compressors tend to have fewer cold-weather difficulties and produce clean, oil-free air. And though the purchase price of an oil-free air compressor is often considerably less than a comparable oiled compressor, you'll likely spend more on maintenance during the service life of the oil-less compressor.
Which Should You Choose?
If clean, oil-free air is critical, you'll probably want to go with the oil-less. If you place a high value on ease of portability, you might be favoring oil-less. If you just want the cheapest up-front cost possible, you'll probably get that with an oil-less compressor.
But if you want a durable workhorse that will likely provide many hours of trouble-free service, your best bet will be an oiled compressor. If you're less concerned about upfront costs and more concerned about cost-per-hour and cumulative service life costs, you'll probably want an oiled compressor.
Only you can decide whether an oiled or oil-less air compressor will best suit your circumstances. But it's important to understand the difference between the two types of air compressors before whipping out the old credit card and committing yourself (to the purchase, that is!).