Selecting the Right Convection Microwave for Your Needs
by Guest Post on Mar 29, 2011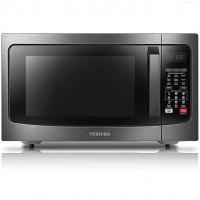 If you are ready to purchase your first convection microwave, here are a few things that will help you select the right convection microwave for your needs. By learning about the benefits of the convection microwave and its uses, you will be able to choose the one that is a good fit.
A convection microwave oven uses convection, or the circulation of hot air, in its cooking process. A heating element warms the air and then a fan circulates it throughout the chamber. This allows the convection microwave to brown foods because the hot air gets close enough to the food for both browning and crisping. The convection microwave also uses the traditional radio waves or microwaves to quickly heat food, thus giving you the best of both appliances.
If you and your family are like most people these days, then you are very busy and often have limited time for baking. With a convection microwave, your cooking times will be cut practically in half. You will be able to roast a chicken for dinner in less time than you have ever thought possible. It will be perfectly browned on the outside and juicy and moist on the inside. You can also bake a batch of cookies in just a few minutes with a convection microwave. You won't have to wait for the oven to preheat if you use a convection microwave. This will allow you more time to spend doing the things you need and want to do.
As with most kitchen appliances, you will find many different models available in the convection microwave. You will see that there are styles with a myriad of features that can make cooking a snap. It is a good idea to look at the features to see which ones you really care about. You might even want to have a sales associate in your local home improvement or appliance store demonstrate them to you. This will help you know which ones are important to have in a convection microwave.
When selecting a convection microwave, size may very well be the most important consideration. If you get one that doesn't fit in your allotted kitchen space, then you really can't use it. It is a good idea to take measurements so that you will be sure that the convection microwave you choose will fit where you want it. Size is also a function that may depend on the type of cooking you plan to use the convection microwave for. You may want to opt for a model with an upper shelf so that you can cook on two layers at a time if you cook a lot.
As you look at the different features that are available on a convection microwave, make sure that they work for the people who are going to be using it. If your children will be using the convection microwave, you may want different features if you are the only user. By asking questions of your sales associate you will be able to make an informed decision and select the right convection microwave for your needs.