Cooktops for Chefs
by Guest Post on Mar 29, 2011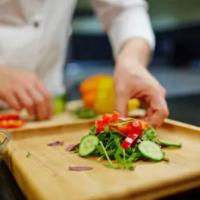 Gas cooktops are preferred by renowned chefs around the world. The steady precise heat and quick responsiveness allows them to cook their dishes to perfection.  They have used these types of appliances for years and know that they can depend on them rain or shine.
Gas cooktops are very customizable, and typically the gas cooktops come with 4 burners and up to 8.  At least one of these burners on the cooktops should have a high heat output.  The high heat output is good for searing meat or for quickly boiling water.  You can order more burners for these cooktops or check into which special attachments they offer.  Standard gas cooktops sometimes have a hard time holding low heat, but gas cooktops have a burner that you can order called a simmer burner to insure the sauces you want simmering won't burn.  Many people go with other cooktops because they seem easier to clean, but gas cooktops can have sealed burners that keep waste from getting stuck underneath the burner.
Great cooks claim that gas cooktops are better for cooking than other cooktops.  They say looking at the cooktop's flame size helps them make precise adjustments in heat.  Cooks have claimed that gas cooktops offer higher heat and that the food cooks quickly.  That is because the cooktop's flame and heat surround the pots and pans heating the sides and bottom.  Others claim that electric cooktops surfaces are too slippery and that the pots and pans slide around too much.  The gas cooktops cool down a lot faster and electric cooktops take longer to cool, so food must be removed from the surface immediately to escape the risk of being burned if left on the cooktops.
Chefs use their cooktops more than anyone else and they put a lot of wear and tear on the cooktop surface and equipment.  Many chefs love that the gas cooktops don't require a lot of maintenance, which can lead to longer cooking sessions as well as easy cleanup. Gas cooktops don't have a lot of parts, don't use electricity, and cooking doesn't stop during storms or power outages. Gas cooktops are dependable and easy in the eyes of many chefs, so if you value what chefs think, purchasing one of these units may be the best thing to do.
Gas cooktops can be good for the environment and cheap to operate.  Gas cooktops use natural gas which is an abundant energy source and is cost-efficient.  The gas in these cooktops turns off as soon as you turn off the switch, wasting nothing, while electric cooktops take a while to fully turn off and may use more energy.  The cost to run gas cooktops can be less than electric, but sometimes not as cheap to set up because gas cooktops require a gas line brought into the house if not already done.  Most newer neighborhoods already have these setup, but in the long run, gas cooktops may be more cost-effective depending on your cooking needs.
Gas cooktops are a great option for seasoned chefs or for anyone.  There are ways to make these cooktops fit in with your specific needs, and they can help you to become a better cook.