Things to Look for When Purchasing a Convection Microwave
by Guest on Mar 29, 2011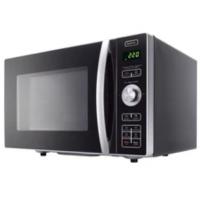 For most people, a microwave oven is a part of modern life, whether it is a conventional one or a convection microwave oven. With the pace of most people's lives seeming to speed up each year, a convection microwave is an excellent solution to making healthy meals quickly and on demand. With the large selection of convection microwave ovens and conventional microwave ovens that are available, it may be challenging to decide which one is the best option for your needs.
One of the first considerations you must make when looking into purchasing a convection microwave is your actual budget. You need to know the price range for the different styles of convection microwaves and make sure you have made room for it in your appliance budget. There is actually quite a price range for convection microwave ovens, so you will want to know which features are important to you before you make your purchase.
You may want to understand more about convection so that you know whether it makes sense for you to purchase a convection microwave. Convection is basically the circulation of hot air, which allows for the browning of the food which doesn't happen with a conventional model. The convection microwave actually uses both microwaves and air circulation to cook your food, which means that you have flavorful, beautifully browned, and quick to prepare meals.
As you look at different features available in a convection microwave, you will want to evaluate your needs and intentions for its use. Will you only need it for defrosting or reheating food, or are you planning on really cooking? If you plan on cooking a variety of types of food, then the convection microwave is an excellent choice because it can be used to bake, brown, and broil foods, as well as reheat and defrost food very efficiently.
As you evaluate your needs, you will want to think about the kinds of foods you want to cook in your convection microwave so that you can determine the size that is necessary. If you currently have microwave-safe cookware, you will want to be assured that it will fit in your new convection microwave. If you plan to cook everything in your new convection microwave including the Thanksgiving turkey, you will want a larger model. A lot also depends on where you plan to put it since over the range convection microwave ovens generally are smaller than countertop models.
Another consideration with convection microwave ovens is the power usage since they can range from 600 watts up to about 1300 watts. Higher numbers of watts mean you have more power and can cook more quickly. There are some recipes that will require a different setting depending on the wattage of your convection microwave.
As you look at the differences between conventional and convection microwave ovens, you will be able to make an excellent choice if you know which features are important to you. In addition to the items listed above, you may want to consider whether or not it will be easy to clean. It may also be important for a turntable to be included so that food can cook more evenly. When you are armed with this information, choosing a convection microwave will be a piece of cake.